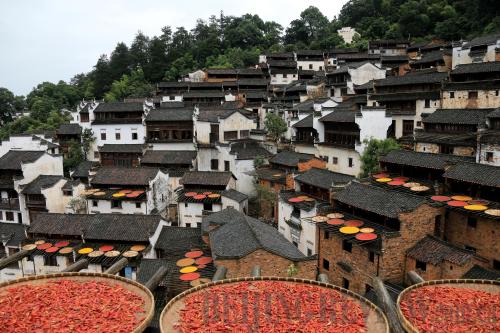 Dried vegetables are on display in Huangling Village in Wuyuan County, Jiangxi Province, to mark a cultural festival celebrating this year's harvest, on July 21 (XINHUA)
Located on the side of Lushan Mountain, Zhonghaoyu Village in Zibo City, east China's Shandong Province, is a place with a view, to say the least. In recent years, villagers have been tapping the area's tourist resources to make their life more prosperous.
Tourists come to spot various attractions, to view flowers in spring and to pick fruits—peaches, dates and persimmons—in summer and autumn. A stream meandering beside boulders adds vitality to mountain life and tourists can drift its currents in rafts. Urban dwellers often take their children there to experience farming.
More than a decade ago, local villagers, subsisting mainly on growing corn and sorghum, were poor. In 2003, determined to develop tourism, the village offered five selected households funds to operate inns for tourists in their courtyards.
In 2011, Zhao Shengjian, a returned university graduate, set up Youyougu Tourism Development Co. in the village. He invited villagers to join the company as shareholders, and promised to reward them with dividends according to the money and manpower they had invested.
About a dozen farmers' inns joined Youyougu's franchise network. The company standardized their prices, services and their amenities through renovation.
Youyougu also launched campaigns to market Zhonghaoyu as a tourist destination in nearby cities, and designed a number of novel travel programs such as outdoor survival training and summer camps for children.
According to news portal Dzwww.com, Youyougu now operates 90 farmhouse inns, including 25 offering starred services. Zhonghaoyu, with 364 residents in 113 households, currently has per-capita annual income of 28,000 yuan ($4,390), representing a 14-fold growth over 10 years. The village receives more than 70,000 tourists in a year on average and its annual direct income from tourism exceeds 9 million yuan ($1.41 million).
Now, Zhonghaoyu's farmers no longer have to go to cities to work as migrant laborers, for they can earn decent money at home. The village and Youyougu have also provided local residents with some social security benefits. A nursing home in the village accommodates villagers over 70 years old.
Zhonghaoyu's success has inspired several nearby villages to get involved in tourism.
Making progress
At a national conference held on August 18, Zhonghaoyu was honored for its efforts in addressing poverty through developing tourism.
Wang Degang, Dean of the Tourism Department of Shandong University's School of Management, said that Zhonghaoyu represents the development direction of rural tourism through its incorporation of farmers into a village-run tourism company that benefits them.
At the meeting, Li Jinzao, head of the China National Tourism Administration (CNTA), said that the tourism sector has become a major means of rural poverty alleviation. He revealed that since 2011, tourism had helped move more than 10 million rural people, or more than 10 percent of the country's total poverty-stricken population, out of poverty.
According to Li, an impoverished village can boost the livelihood of 70 percent of its residents through developing tourism. "At least half of the 128,000 poor villages across China have the necessary conditions in this regard," he noted. "Tourism can engage a large number of laborers, has low production costs and can yield quick results in poverty reduction."
Most rural areas have green mountains, clean water and air, specialty products and folk cultures, all of which are cherished by urban dwellers, said Li Jianguo, a senior consultant to the Jiangxi Provincial Rural Tourism Research Center.
More importantly, the rural tourism boom has been fueled by increasing household income and car ownership in cities, as well as improvement in rural infrastructure, he added.
Anhui Province in east China is abundant in both agricultural and tourist resources. According to local tourism authorities, 70 percent of the province's tourist resources are located in rural areas. Recently, Anhui has launched a slew of large-scale construction projects to build and renovate rural roads leading to scenic spots.
As of the end of 2014, there had been 1.7 million plus farmhouse inns and more than 30,000 leisure farms in China, said Li Jianguo. These farms generate more than 120 billion yuan ($18.84 billion) in revenue every year, benefiting 30 million farmers.
It is predicted that from 2015 to 2020, an additional 12 million people living under the poverty line, or 17 percent of the country's total poverty-stricken population, will become economically affluent through employment in tourism-related jobs, according to statistics jointly released by the CNTA and the State Council Leading Group Office of Poverty Alleviation and Development at a press conference on July 10.
Removing bottlenecks
Li Jianguo admitted that rural tourism in China is still in the primary stage, offering tourists the experience of living in farmhouse inns and harvesting agricultural products.
He blamed the slow development of rural tourism to problems such as poor management, a lack of product diversification and over-reliance on government support.
"Greater efforts are needed to help farmers establish tourism cooperatives, create new tourism programs and better engage tourists," Li Jianguo said. "Farmers should be encouraged to establish their respective identities in developing local tourism, in addition to protecting the rural environment and cultural resources, improving tourism infrastructure and, in particular, preserving rural hospitality and local flavor."
Rural tourism is usually associated with agricultural production. For instance, Rentian Town in Shanghang County, southeast China's Fujian Province, is famous for its grape production, so the village has developed tourism in this area. Liu Shaohao, a local resident, manages a vinery. He said that since tourism became a pillar industry in the region, he no longer has to worry about shipping and selling grapes, because tourists will flock to his vinery, pick them from vines and buy them in the field.
In recent years, local villagers have also grown cauliflower, starfruit and grapefruit, which attract tourists to visit outside of the grape-harvesting season.
"In 2014, the entire town received more than 150,000 visitors, who generated tourism income surpassing 75 million yuan ($11.78 million). Both the number of visitors and tourism income achieved an annual growth of more than 20 percent," said Lin Huowen, a local official.
To encourage poverty alleviation through developing rural tourism, at the meeting on August 18, the CNTA and the State Council Leading Group Office of Poverty Alleviation and Development announced eight measures, including stepping up tourism planning, providing funds to improve rural infrastructure and delivering training.
The Tourism Development Fund under the CNTA will allocate a total of 100 million yuan ($15.71 million) to subsidize villages piloting rural tourism for building public bathrooms, which translates into 200,000 yuan ($31,400) for every such village.
The government will also provide every impoverished household that is engaged in tourism with a guarantee-free and mortgage-free loan between 30,000-50,000 yuan ($4,839-8,065) at the benchmark interest rate and with a maturity period of three years maximum. The interest discount will be covered by the government's poverty alleviation fund.
Companies developing tourist resources in poverty-stricken areas will be eligible for low-interest loans.
The government will also deliver training to people who can lead villagers in poverty-stricken areas to develop tourism. Approximately 2,000 such persons will be trained every year. Meanwhile, every young person from a poverty-stricken household in pilot villages can get a maximum of 3,000 yuan ($471) one-off subsidy to study in tourism vocational schools.
Copyedited by Kylee McIntyre
Comments to wanghairong@bjreview.com