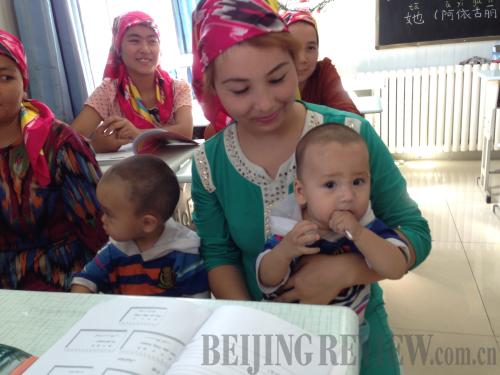 Local women attend a free Mandarin class offered by Pingdingshan Community in Urumqi, Xinjiang Uygur Autonomous Region, with their children LIU XINLIAN
Having spent two months in Urumqi, capital city of northwest China's Xinjiang Uygur Autonomous Region, 23-year-old mother Helidan decided to take the free Mandarin class running in her community. Since no one could help babysit her 1-year-old boy, she asked the teacher's permission to take the child with her to class.
"Speaking Mandarin may help me find a better job," she said.
In a region of more than 13 major ethnic groups and six major languages of Mandarin, Uygur, Kazak, Mongolian, Xibe and Kirgiz, bilingual or even multilingual competence has become more and more important for all residents in Xinjiang.
According to China's Regional Ethnic Autonomy Law, more than two languages should be used when performing public duties and ethnic minorities have the right to use their own language in voting and ligation. Both Mandarin and Uygur languages are the region's official lingua francas and all signs are written bilingually. In the sub-regions devoted to one particular ethnic group, including the Altay Kazak Autonomous Prefecture and the Bortala Mongol Autonomous Prefecture, Mandarin and the ethnic language of the people in question are held to be the official languages. For example, Kazak is employed in Altay and Mongolian in Bortala.
Even so, having a good command of Mandarin is considered important for minority ethnic residents in Xinjiang. It is not only essential with respect to their communication with people from other provinces and regions in the country, but also to inter-communication between different ethnic groups in the area.
Bilingual education helps members of minority ethnic groups accrue more knowledge, enhance their professional skills and get to know more about social change, said Adiljan Ablet, a professor at the College of Politics and Public Administration of Xinjiang University.
However, according to a white paper released by the State Council Information Office in 2009, 70 percent of its minority ethnic population could not speak fluent Mandarin or write accurately in Chinese characters. Although Xinjiang has promoted bilingual education for years, its residents' bilingual ability also remains below par.
"Some minority ethnic farmers don't recognize Chinese characters, they mistook fertilizer for pesticide and had no harvest," said Adiljan.
According to Huang Xing, Deputy Director of the Institute of Ethnology and Anthropology of the Chinese Academy of Social Sciences, generally speaking, ethnic minorities in foreign countries demonstrate greater competence in their respective national languages than Xinjiang's ethnic minorities. To give but one example, the 2011 UK Census found that of the total 3.1 million residents of Wales, 73 percent reported having no Welsh language skills whatsoever and use English exclusively. All (adult) Māori in New Zealand are also proficient in the English language.
Grasping Mandarin is a passport to the outside world, providing one access to a rich set of resources existing in the form of Chinese, said Fang Xiaohua, a professor at Xinjiang Normal University.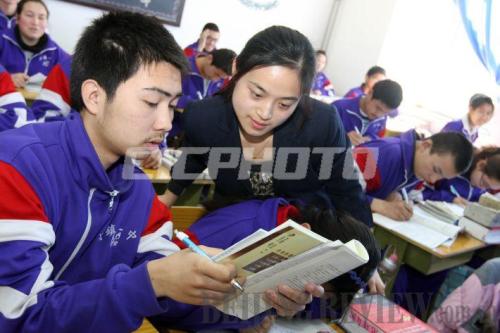 Students from Xinjiang at a class in Yangzhen No.1 Middle School in Shunyi District, Beijing. The school currently accommodates 800 students from eight ethnic groups from Xinjiang (XINHUA)
Bilingual schools
According to a report released by Xinjiang Regional Department of Education last year, more than 48 percent of local primary students in the region received bilingual education, doubling the 2010 level.
The development of bilingual education differs greatly across different parts of Xinjiang. In southern rural areas and northern pastoral areas, where ethnic minorities make up the major part of the population, bilingual education has a much lower penetration rate than in big cities such as Urumqi and the capital cities of prefectures.
In south Xinjiang, where 90 percent of the population is Uygurs, it is particularly difficult to promote bilingual education owing to the lack of an authentic and immersive language environment. In most villages, the Uygur language is used by all residents and there is no need to use other languages. Bilingual education there is available in 38.5 percent of local primary schools. The figure is nearly 10 percentage points below Xinjiang's average level.
Fang attributes the situation to a lack of qualified teaching staff. Most teachers are native Uygur speakers and it is a challenge for them to use Mandarin accurately, he said.
In response, other provinces have offered help. Since 2000, Zhejiang Province in east China has sent more than 500 teachers to Aksu Prefecture in south Xinjiang and trained nearly 3,000 Uygur teachers, accounting for more than 60 percent of their entire teaching staff under the age of 35.
To furnish its students with a better language environment, Xinjiang has also sent its students to other provinces. Currently, there are more than 42,000 Xinjiang students studying in 126 schools in 45 cities across the country. More than 77 percent of these students are from families of farmers or herdsmen.
Last year, 14-year-old Nurmuhan Liyas from Urumqi began her study at Beijing No.10 High School. The Kazak girl recently won first prize in a speech contest in the school, which has galvanized her in the dream of becoming a civil servant after graduation.
"Studying in Beijing has given me the chance to improve my language proficiency," said Nurmuhan.
The authorities will push forward bilingual education in order to ensure that all minority ethnic residents possess a basic grasp of the Chinese language, said Zhang Chunxian, Secretary of the Xinjiang Regional Committee of the Communist Party of China.
Achieving balance
Although more efforts are required to support language education, for Fang, it is just a matter of time before Mandarin gains a foothold in Xinjiang. The other side of the equation is that residents from the Han ethnic group in Xinjiang, who are mainly Mandarin speakers, should in turn be required to learn minority languages.
Li Wenhao, a Han police officer in Altay, has been preoccupied with a Kazak language test in recent days. Although she is not required to pass the exam, an improved proficiency of the language will surely prove helpful in her future career.
For civil servants in Xinjiang, bilingual ability usually gives them more weight when competing for promotion. Some local governments claim that bilingual ability is a must for new employees.
According to Muhter Eysan, Deputy Director of the Xinjiang Regional Ethnic Affairs Commission, 70 percent of books released in Xinjiang are published in ethnic languages.
In Xinjiang, mutual learning is not just a matter of efficiency and income, but also concerns ethnic unity.
"Xinjiang's Han ethnic civil servants and teachers should learn languages of minority ethnic groups, so as to become better accustomed with the cultural backgrounds and social customs of these groups and better serve minority ethnic population," said Ge Jianxiong, a member of the National Committee of the Chinese People's Political Consultative Conference, China's top advisory body.
(Reporting from Xinjiang)
Copyedited by Eric Daly
Comments to liuxinlian@bjreview.com