Adil Memettur (left, standing) checks online sales volume on December 12, 2014, at his office in Changsha, central China's Hunan Province (XINHUA)
Xu Xinghua, a red dates dealer from Aksu Prefecture, Xinjiang Uygur Autonomous Region, has already sold 2,000 tons of red dates on his Taobao.com and JD.com stores and much to his surprise, has made more than 3 million yuan ($469,800). "The power of the Internet is beyond imagination," said Xu. This booming business has increased almost fivefold in less than three years.
Many have followed Xu's footsteps and reaped the benefits in the western region. Data released by e-commerce giant Alibaba Group Holding Ltd., show that from June 2014 to June 2015, 2.6 million online stores based in Xinjiang had been opened on Alibaba's Taobao.com and Tmall.com, generating a sales volume of 1.3 billion yuan ($203 million), a year-on-year increase of 43.34 percent and 65.7 percent respectively. The most popular products are fruits and nuts, including red dates, raisins, walnuts, as well as gems such as Hotan jade. "The quality of Xinjiang's fruits and nuts is beyond compare owing to its specific climate," said Xu.
Bearing in mind that farmers account for 56 percent of Xinjiang's population, compared with the national average of 47 percent, e-commerce is of paramount importance to the region, especially for farmers, explained Dong Xinguang, Vice Chairman of the Standing Committee of the Xinjiang Uygur Autonomous Regional People's Congress.
Logistics difficulties
Last year, Xu moved his distribution center to Changchun, capital city of northeast China's Jilin Province, to make up for poor logistical support in his home region. The distance from Aksu to Beijing is over 3,900 km and deliveries take about seven days while it takes at most three days from Changchun, 600 km away. "Competition is fierce on the Internet for red dates. The extra shipping costs are enough to kill business," he added. Poor delivery performance has also been responsible for customer defection.
What's more, transportation capacity has become extremely inadequate since September because fruits and nuts are ripe at the same time and ready to be shipped out, thus creating a glut. "It has become especially difficult to charter freight trains or planes and my orders have been postponed again and again," said Xu. On one occasion, he recalled that his dates traveled nearly one month before they were finally delivered to his customer on the southern island province of Hainan, 5,700 km away from Aksu. "This is unbearable," said Xu.
The busy season for fruit processing has also increased labor costs: For Xu, it was the last straw and he was forced to leave. From September onward, short handedness became prominent in rural Xinjiang because almost all fruits and nuts are ripe and in need of workers for processing.
In Aksu, temporary workers usually earn a daily wage of 150 yuan ($23.5), compared to 100 yuan ($15.67) in Changchun.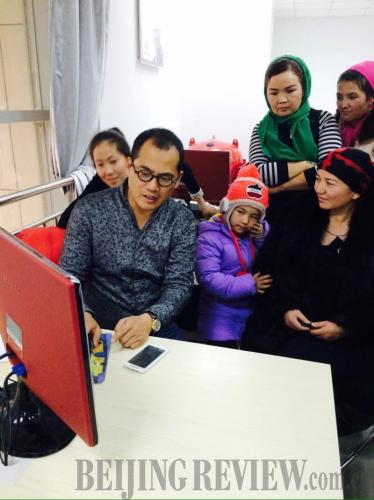 Huang Changhui teaches villagers of Yuli County how to open an online shop (COURTESY OF HUANG CHANGHUI)
Supporting measures
The Central Government has encouraged east and central provinces to support Xinjiang, with each province being assigned a city or a region in Xinjiang.
Aksu is twinned with Hangzhou, where Alibaba is headquartered. According to the Aksu government, Hangzhou has already allocated 2 billion yuan in aid ($313 million) since the end of 2013. In addition to building public facilities, sending qualified workers and engaging charity work, Hangzhou has also brought in Alibaba. In the last three years, more than 600 local business people have received free training in e-commerce provided by the Hangzhou Municipal Government. Xu was one of them and the experience was an epiphany of sorts as he realized the potential for development. In addition to free training. Alibaba also provided business people with free service including webpage design and administration.
Aksu is not the only prefecture that has become enthused over e-commerce. Yuli County of Bayingolin Mongol Autonomous Prefecture has been even bolder and more aggressive. In order to encourage more people to do business online, the authorities have granted an exclusive 3-yuan ($0.5) subsidy for each package delivered. "This will bring our logistic costs per km down to 7 yuan ($1.1)," said Huang Changhui, a local e-commerce shop owner.
In the next few years, more distribution centers will be built to alleviate logistical stress, said Dong.
Alibaba has decided to set up its own distribution center in Xinjiang, said Jack Ma, President of Alibaba. Although Xu's distribution center is located in Changchun, he still hopes that one day he will be able to move back.
"Aksu is renowned all over China for its dates and apples, but my shipping address is in Changchun, which makes me untrustworthy, although my dates originate from Aksu," said Xu.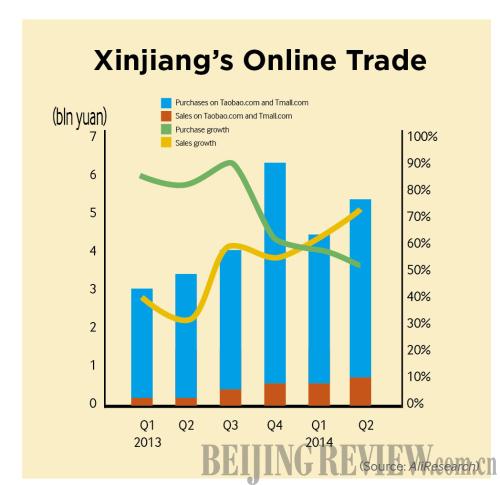 Business for all
In Xinjiang, the Uygur community accounts for more than half of the population, but few are involved in e-commerce. "Bilingual workers are still hard to find, especially in small cities, like Yuli," said Huang, a Han ethnic whose company has hired 20 Uygur workers.
Some Uygurs are blazing a new trail. Aytursun Matsu has been working for Huang's company for half a year. She used to work in big cities, but she was hired owing to her excellent Mandarin writing and speaking skills. Although she now earns only 2,500 yuan ($390) per month, much lower than her previous salary, she has decided to stay. "Working here gives me a chance to learn about Internet business. After I got enough experience, I will start my own business on the Internet," said Aytursun.
Adil Memettur, a Uygur from Kashgar, produces matang, a typical sesame sweet. He launched his business on Taobao.com with his two Han partners in Changsha, capital of central China's Hunan Province, after graduating last year. On May 3 and 4 alone, they received over 6,000 online orders with daily sales exceeding 100,000 yuan ($16,010). He hopes that this sweet, once an important supply of energy for travelers on the ancient Silk Road, will be available in most supermarkets and become a snack of choice for customers.
(Reporting from Xinjiang)
Copyedited by Jacques Fourrier
Comments to liuxinlian@bjreview.com