Cultural messenger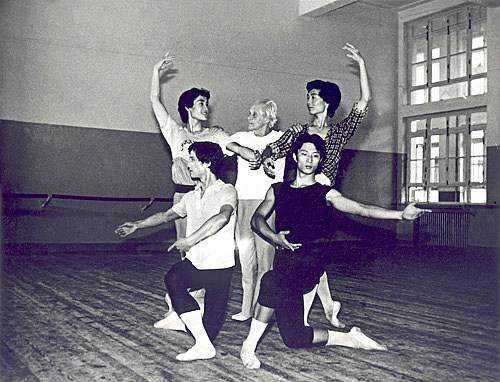 FOREIGN CONDUCTOR: English choreographer Sir Anton Dolin directs dancers at the National Ballet of China in the early 1980s (COURTESY OF THE NATIONAL BALLET OF CHINA)
Cultivating its own audience is another task NBC has faced squarely. "We have always thought about how ordinary Chinese can be able to watch and love ballet. It should not be something distant from the public," Zhao said.
For years, NBC has dedicated itself to popularizing ballet to ordinary people. It often invites ballet lovers to visit the company to see how the dancers are trained, how they rehearse, and welcome them to talk to the stars they admire. It has also been a tradition of the company to invite local residents to the company and perform for them, giving lectures and answering questions. "The effect is very good, and our audiences are very active and enthusiastic," said Zhao.
The company also visits colleges and universities to popularize ballet among students. Peking University has been a long-term cooperative partner. "Even before interior decoration of the university's theater was completed, we started to perform there," Zhao said. Combining high-quality dance and low ticket prices, the performances attracted a great number of young onlookers.
Besides performance, the company has also paid great attention to talking about the art form in schools, on TV and radio, and by way of other media.
The company maintains ties with the two-year-old China National Center for Performing Arts (NCFPA), where Zhao now works as dance director after her retirement from NBC in 2008.
"The NCFPA provides a good platform to present stage art to Chinese audiences. Since the opening of the theater, NBC has performed there nearly 50 times, presenting 11 different works and producing more than 10 million yuan ($1.5 million) in box office takings," Zhao said.
Besides NCFPA, the company also has its own theater, Tianqiao Theater, in Beijing, a first-class professional theater for the art of dance. It performs there as often as it can every year, and always aims to keep ticket prices affordable.
In recent years, the company has placed growing importance on ballet popularization and promotion. "This is what we have learned from foreign counterparts. When we performed in foreign theaters, the organizers would often introduce our troupe and give the cultural background of the work to be presented to audiences, and that inspired us greatly," Zhao said.
Now, Zhao often gives a short lecture before every NCFPA ballet performance and puts across basic ballet knowledge. She is presently considering ways of creating chances to give lectures to enable audiences to have the best possible experience and to enable them to better interact with dancers.
Although having left NBC, Zhao is still concerned about the future of the company and the art form itself in China. She said she was not particularly upset when she retired two years ago, as she knew the company would move to a younger leadership team that would take it to a higher level. But when she watched the last performance of the company for the 50th anniversary celebration on December 31, 2009, her eyes were full of tears.
"I feel very proud to be one of those who have experienced the magic growth of ballet in China from point zero to glory, and I suddenly realized at that moment that I could not leave ballet, leave those wonderful dancers," she said.
As a participant in and witness of the development of Chinese ballet during the past 50 years, Zhao stressed that it was through NBC that ballet began to be known to ordinary Chinese, and it was also through the company that foreigners know how the originally Western art form is loved and enjoyed by Chinese.
"Ballet is like belief to dancers. Every success has been achieved by times of tears and sweat. Since we have started, we will not stop," she said.
Repertoire of NBC
The Red Detachment of Women
The Red Detachment of Women is a Chinese ballet premiered in 1964. Adapted from the earlier film of the same title, it depicts the liberation of a peasant girl from Hainan Island and her rise in the Communist Party of China.
The masterpiece is made from the combination of ballet performing techniques with traditional Chinese dances. It is widely regarded as China's first and most successful grand ballet for its magnificent stage design and graceful performance.
Despite its revolutionary historical background when it was created, it has remained a favorite of music and ballet lovers for nearly 30 years. Its music is familiar to almost every Chinese person who grew up during that time. It is now part of the permanent repertoire of the National Ballet of China (NBC).
Raise the Red Lantern
China's best-known film director Zhang Yimou remade his movie masterpiece Raise the Red Lantern into a ballet in 2001, which was performed by NBC with music from the Symphony Orchestra of China. The ballet combines elements of Western dance and classic Peking Opera and is brilliantly staged.
For the first time in ballet history, dancers in the ballet wear traditional Chinese qipao (stylish and often tight-fitting dresses) while performing. The mixture of Peking Opera, qipao and Western ballet makes a fascinating performance for audiences.
A modern ballet of cinematic range and with exquisite costumes, the work has been performed every year since its debut in 2001.
The Peony Pavilion
NBC presented The Peony Pavilion in Beijing in May 2008. The script was adapted from the famous 16th century play of a fairy tale.
It for the first time incorporates traditional Chinese kunqu (one of the oldest forms of Chinese opera) elements as well as graceful ancient costumes into the ballet performance.
NBC invited international choreographers to create this original work. Dancers bring out the full emotion of the plot with graceful dancing. The company's own orchestra, under the baton of Zhang Yi, is superb.
(By Liu Yunyun)