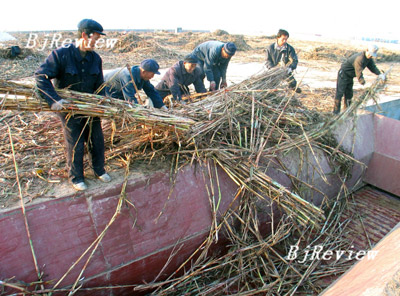 While some ecologists question whether producing ethanol and bio-diesel fuel from corn and other crops is worthwhile in terms of the amount of energy produced and the cost involved, the Chinese Government is facing the same issue from a different perspective: balancing its energy strategy with grain security.
Yushu City in northeast Jilin Province has been the country's top grain producer for the last three years, yielding a total of around 2.4 million tons of grain every year, of which 1.8 million tons is corn. However, the mayor's assistant Sun Linqi is worried that the city will be a net grain importer in the near future. "When the two bio-fuel projects [in the city] are completed, we need to import corn from other cities to meet their demand," he said.
According to Sun, the two projects will eventually each consume up to 1 million tons of corn every year upon completion.
A bio-fuel boom is going on throughout China, which is notable, considering that the concept only has a 10-year history in the country. Globally, against the background of rising tension between economic growth and energy shortages, bio-fuel is seen as representing the future of alternative energy sources. People have been attracted to the idea of extracting a seemingly inexhaustible energy source.
China, which became a net oil importer in 1996 and is growing increasingly dependent on foreign oil, has embarked on an adjustment of its energy strategy by raising the proportion of alternative energies in the overall energy portfolio. Therefore, the government has actively encouraged the development and expansion of bio-fuel in a bid to reduce the country's reliance on fossil fuels such as crude oil and coal.
In seeking alternative energies, China has given priority to fuel for vehicles, which currently account for about 50 percent of China's total oil consumption. For the time being, ethanol is regarded as the most promising bio-fuel option and has the largest production scale worldwide. In addition to its environmental benefits, ethanol is preferred by the Chinese Government for another reason: the raw material for ethanol production is agricultural byproducts and farmers can make a profit by being the suppliers.
So far, the government has designated four plants in four provinces in central and northeast China for ethanol production using stale grain as material. The product is blended with gasoline at a ratio of 10 percent. Besides reducing the demand for oil, the blended fuel also helps to control pollution through its lower sulfur content and greater combustion efficiency. China is now the world's third largest producer of ethanol as bio-fuel. The government has subsidized the sale of blended fuel in nine provinces.
Food supply concerns
However, out of concern for grain security, the government has launched no new subsidized ethanol production projects since the end of 2001. But the business opportunities in producing ethanol have spurred the business community and local governments in major grain-producing regions to invest in plenty of new projects.
Of all grains, corn is the most favorable raw material for producing ethanol in China because of its high content of starch. In most bio-fuel plants, producing one ton of ethanol consumes three to four tons of grain. Currently, China's annual production capacity of ethanol for bio-fuel is 1.5 million tons. Moreover, Chinese businesses have planned to gain an extra production capacity of 10 million tons per year-far beyond the projected 5 million tons in the government's 11th Five-Year Plan (2006-10)-and the calculation of grain to be consumed has raised concerns about the excessive consumption of corn and wheat.
Using corn and wheat to produce ethanol represents China's earliest exploration of alternative energy sources. According to a government official who requested anonymity, the production of ethanol as bio-fuel started with the processing of China's surplus of nearly 100 million tons of stale grain. However, as that supply was used up, ethanol production shifted to fresh grain. "This obviously poses hidden trouble for China's grain security," said the official.