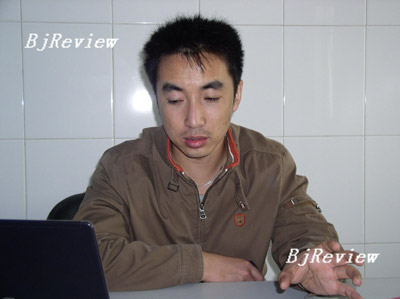 Thirty-year-old Xiao Dong recently drew much public attention after the opening of a health clinic for gays-the first of its kind in the country. It provides free AIDS checkups and treatment for sexually transmitted diseases (STDs) for one year.
The clinic is funded by governmental health institutions but is run by a civil organization headed by Xiao Dong, who is also a gay.
A survey by the Ministry of Health showed that there is a gay population of around 5-10 million, most of whom remain "hidden in the closet".
"The number of gays infected with HIV has been increasing, among whom those aged between 16 and 30 are most at risk of AIDS infection," said Zheng Yuhuang, an AIDS prevention and treatment expert with a hospital under the Central South University in Hunan Province.
The situation in China is that many gays with STDs (including AIDS) turn to private clinics instead of regular hospitals due to their special identity.
"Our clinic, however, has gay doctors and volunteers helping patients overcome the mental block," noted Xiao Dong. He said the clinic guarantees an efficient, low-priced and sustainable medical service for gay group. Besides the one-year free health checks, it also provides all kinds of services such as psychological counseling and emotional support.
According to Xiao Dong, the first batch of gay clinics are planned to be established in three community hospitals and further be promoted more widely when such a mode matures. If a gay is diagnosed with HIV, he will be transferred to the free AIDS treatment project managed by the government. To protect privacy, the doctors basically will not be given details of the patient's identity.
Xiao Dong's participation in AIDS prevention for gay people has much to do with Shi Wei, Director of the Chaoyang District Center for Disease Control and Prevention. The two first got to know each other through a gay chat room in February 2005.
Gay chat rooms usually are not accessed by non-gays. But that day Shi Wei, who is straight, had gained Xiao Dong's trust by his goodwill and enthusiasm to help gay people to protect themselves. Shi had long been trying to set up a gay volunteer organization but made little progress as he was not part of the gay community.
Six days later the two had a face-to-face meeting and finally decided to work together.
On May 18, 2005, Xiao Dong organized a Chaoyang Chinese AIDS Volunteer Group thanks to his popularity among the gay community. The group has seven key members, among them being professors, doctors and media personnel, with the youngest being 26 and the oldest 53. The same day, they also launched their website, www.hivolunt.net, the first website in China dedicated to AIDS prevention and treatment for gay people.