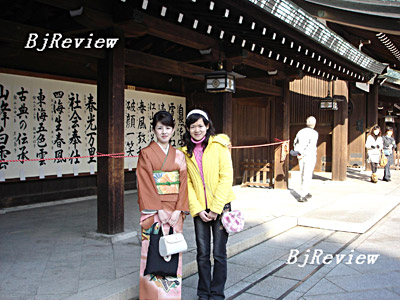 Chinese and Japanese citizens have found themselves inextricably linked by strong cultural bonds. This is evident from the interviews conducted by Beijing Review reporters Zhang Yuying and Miao Xiaoyang. They spoke to Yu Qiang,a Chinese writer who has been devoted to promoting China-Japan friendship and cultural exchanges for the past two decades ; Weng Xianxian, a graduate student at the Beijing-based Renmin University of China; and Goro Yotsumoto and Shoji Hanamura, Japanese students at Capital Normal University in Beijing.
Yu Qiang

Premier Wen Jiabao's visit to Japan will be an ice-breaking tour. I feel greatly encouraged. The relationship between China and Japan can be likened to a ship sailing on the vast sea. When the sea is calm, passengers on the ship are at ease. When it becomes turbulent, they feel uncomfortable or even utter bitter complaints. The relationship can also be likened to the boundless sky. When the weather is fine and the sun is shining, people are in high spirits. When there are dark clouds and chilly gusts, they are overwhelmed with distress.
I was regretful and concerned about the strained China-Japan relations in recent years. Some of my Japanese friends also showed concern in their letters. In this context, the Shanghai International (China-Japan) Poem Recital that I initiated had to be canceled because of the small registration in 2005 and 2006. Since the China-Japan relationship has taken a turn for the better, I often receive letters from Japanese friends asking me to reopen the recital. The friendly ties between the Chinese and Japanese are long-lasting and cannot be severed.
It is the common aspiration of the two nations to pass on their friendly relations from generation to generation. I believe Premier Wen's trip will help create a pleasant climate for bilateral relations.
Weng Xianxian
Before I visited Japan under a study program in January this year, I had learned about Japan mainly from TV shows, cartoons and books. This program gave me an opportunity to see this traditional yet modern country with my own eyes.
What impressed me most during my 20-day stay was Japan's seamless combination of traditional culture and modern civilization. Take a walk along a busy street and you will find towering skyscrapers and quaint teahouses alike. The Japanese nation's eagerness to learn and openness have helped shape a distinctive culture characterized by tolerance and inclusiveness. I was also impressed by the thoughtfulness and courtesy of the Japanese people. For example, there are special lanes for visually impaired people in the streets. In buses and subway trains, there are seats reserved for the disabled. People working in service industries are extremely polite to their customers. Whenever we were in need, those around us would give us a helping hand. Moreover, garbage cans are found in every nook and cranny of Japanese cities. In Japan, all types of rubbish are classified, treated and recycled. With a strong sense of environmental protection, the Japanese see great value in using resources efficiently.