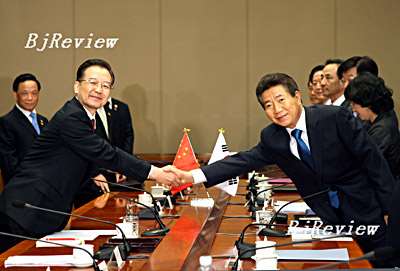 Being neighbors, China, the Republic of Korea (commonly known as South Korea) and Japan have cooperated on regional affairs through multiple frameworks such as ASEAN 10 plus three meetings, East Asia summits and six-party talks on the Korean Peninsula nuclear issue. The most recent strengthening of this cooperation was Chinese Premier Wen Jiabao's visits to South Korea and Japan on April 10-13.
South Korea: focus on economic cooperation
The relations between China and South Korea are in good shape. In the 15 years since they established diplomatic relations, an all-round cooperative partnership, enhanced political trust, trade and economic cooperation have all been developed and enhanced.
According to statistics from South Korea, the bilateral trade volume between China and South Korea was $5 billion in 1992. Last year, the total trade volume rose to $130 billion, and in the process China became South Korea's largest trade partner, largest importer and largest overseas investment target. South Korea moved to become China's third trade partner, fourth importer and third exporter. In addition to economic considerations, their rapidly developing bilateral relationship contributes to the peace and stability of the Korean Peninsular and Northeast Asia, something that definitely benefits the two countries.
Premier Wen's South Korea visit served to promote bilateral ties. He described his visit as "substantial and fruitful" shortly before concluding his tour, saying that future cooperation looked promising.
Wen arrived in Seoul on April 10 for his first visit to South Korea as premier. He held talks with his South Korean counterpart, Han Duck Soo, and South Korean President Roh Moo Hyun, met with other senior leaders, and attended the opening ceremony for the China-South Korea Exchange Year, which marked the 15th anniversary of the establishment of bilateral diplomatic ties.
"Thanks to the joint efforts in recent years, political trust between China and South Korea has deepened, exchange and cooperation have been expanded, and coordination in dealing with regional and global affairs has become closer," said Wen when meeting with Roh.