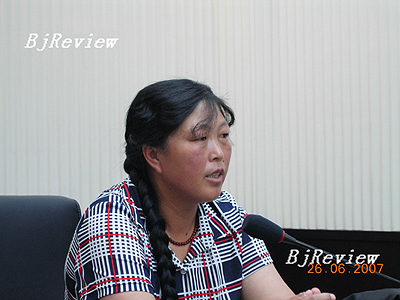 Twenty-two years ago, 20-year-old Yin Yuzhen was sent by her father from Shaanxi Province to Inner Mongolia to marry a young man in the village of Uxin Banner (county) in Ordos City. At the time it was called Ih Ju League (prefecture). Near her house, there was nothing but sand. Loving green ever since childhood, Yin began to plant trees and flowers near her house the very next month. She knew trees could absorb the dazzling sunlight reflected by sand and bring shade to her family.
In the early days, since Yin didn't know the proper techniques, less than 50 percent of the trees she planted survived. The trees were often covered by drifting sand dunes or overturned by sand storms. Through trial and error, Yin found out suitable trees and the proper locations to plant them. At present, Yin, managing nearly 4,500 hectares of forest, feels that the microclimate has greatly improved. In the past, when she woke up every morning, sand would get into her eyes, nose and mouth. Now, only a little sand is left on the windowsill. Her example has spurred more than 100 local households to plant trees, each of them now has around 1,000-2,000 hectares of forest.
Because of the poor transportation in her village, Yin cannot sell the products from her trees. She has to live on the 300 sheep and 40 cows she feeds. But Yin feels no regrets even if her son didn't pass this year's college entrance examination. She has little time to take good care of her son. "I plant trees not merely for myself, but for the future generations," Yin told Beijing Review.
Fighting back the desert
Long ago, Inner Mongolia used to be a place with dense forests and lush grasslands. However, because of the increasing population of local residents and livestock, as well as natural disasters, its ecological environment became severely damaged.
In west Inner Mongolia, there is a desert called Wulanbuhe, stretching over Alxa League, Wuhai City and Baynnur City and covering about 14,000 square km along the Yellow River. "Although it is not the largest desert in Inner Mongolia, its influence is the largest, since it is in an area with high population density," Li Shuping, an official from the Department of Forestry of the Inner Mongolian Autonomous Region, told Beijing Review.
According to Li, various measures have been adopted to improve the ecological environment. Sand barriers were erected first to fix the drifting sand, and then shrubs, trees and grass suitable for the desert were planted, such as sea buckthorn, caragana and salix. These plants not only help fix sand, but also bring economic benefits to local farmers. Fruit from the sea buckthorn can be made into beverage, vinegar and so on. Salix, a variety of willow, must be cut down every three or four years in order to promote its growth, while the cut salix can be made into paper and synthetic boards. On average, every hectare of sand can produce 100,000-120,000 kg of salix and every kg of salix can be sold at 0.6 yuan. Moreover, aerial sowing has been introduced to raise the efficiency of forestation.
Now, there is a complete forest belt at the edge of the Wulanbuhe Desert along the Yellow River. The edge of the desert has shrunk 10 km inward and the sand it brings to the Yellow River has been reduced year by year, said Li.
According to the third national desertification and sandy land monitoring carried out by the State Forestry Administration in 2004, desertified land in Inner Mongolia was 62.2 million hectares, 1.6 million hectares less than that in 1999, while sandy land was 41.6 million hectares, 487,000 hectares less than the figure in 1999.
Restoring grassland
Namuhai, of the Mongolian ethnic group, is a villager in Aolike Gacha (village) of Sanggin Dalai Town in Xilin Gol League. With 115 households, this is the first gacha that has fully migrated from the pasture area in Inner Mongolia. From 1999 to 2001, Xilin Gol was hit by severe drought. Worsened by years of overgrazing, 70 percent of Namuhai's grassland became sandy and deteriorated, and the per-capita annual income of his family was less than 500 yuan ($60 at then exchange rate).
Having moved out of the pasture area in 2001, Namuhai and his family now live in a brick house, using tap water, electricity and telephones. It is more convenient for them to see the doctor and for the children to go to school. "Even if allowed to move back to the grassland, my children wouldn't do that, because life there is inconvenient and they cannot watch TV," Namuhai said.
More importantly, since they only cut grass but do not graze, the grassland has been rested, with 95 percent of which being restored.
Early in 1998, Ordos City carried out an experiment of prohibiting the use of local pastures for one year and a suspension of using the pastures between April-June from then on. Since 2000, the practice has been extended to the whole autonomous region. Meanwhile, rotational pasture use has also been adopted. According to figures of the Department of Agriculture and Animal Husbandry of Inner Mongolia, at present, 47.6 million hectares of grassland has been subject to prohibition and suspension of grazing or rotational use, greatly helping restore and improve the vegetation. Estimates show that in the pasture suspension area of Hulun Buir City, the height of grass is 8-10 cm, vegetation coverage has increased 20 percent and the output of grass increased 20-40 percent.
"Nature has strong capability of self restoration," said Chu Bo, Secretary of the Inner Mongolia Regional Committee of the Communist Party of China. "By reducing human activities, grassland can be restored in only two or three years. We should demand less from the nature."
If You Go to Inner Mongolia
Inner Mongolia is a terrific tourist destination with various topographic features and a diversified ecology. It has abundant tourist resources, from grassland and deserts to forests and lakes. Here you will see more sheep and cows than people.
What to see
Grassland: Most of the best grassland is concentrated in the eastern part of Inner Mongolia. Famous grassland tourist areas include Hohnur Grassland, Jinzhanghan Grassland and Baiyinhushuo Grassland in Hulun Buir City, Chaersen Grassland in Hinggan League, Jurh Grassland and Daqinggou National-Level Nature Reserve in Tongliao City, Bayan'aobao Grassland and Dalinur Grassland in Chifeng City, Ujimqin Grassland and Summer Capital of the Yuan Dynasty in Xilin Gol League, Gegentala Grassland and Huitengxile Grassland in Ulan Qab City and Xilamuren Grassland in Baotou City. Hinggan League has the most beautiful green grass and Hulun Buir has the best-preserved grassland in the country.
Deserts: Badain Jaran Desert in Alxa League and Hobq Desert in Ordos City, both in western Inner Mongolia.
Forests: Daxing'anling Forest and Honghoji Mongolian Scotch Pine Forest in Hulun Buir City and Diversiform-Leaved Poplar Forest in Alxa League.
Lakes: Hulunhu Lake and Buir Lake in Hulun Buir City.
Hot Springs: Arxan Hot Spring Tourist Area in Hinggan League.
Amusement: Naadam Fair, the Mongolian traditional sports fair, is held every July and August when the grassland is most beautiful. Every city and league or even banner has its own Naadam, where you can enjoy the three feats that Mongolian men should master: horse riding, archery and wrestling. Some yurt owners may hold campfire parties if they can collect enough guests, where people enjoy Mongolian dances and songs and dance together. There are restaurants providing art performance as well.
Food: Daily food for Mongolian people is mutton, which is cooked with only water to preserve its natural taste. Milk tea is another daily necessity, the flavor of which is different from household to household. Other milk products include milk skin, milk tofu and so on.
Getting there and away
Transportation in Inner Mongolia has been greatly improved. It has 10 airports now in Hohhot, Baotou, Hailar, Xilinhot, Chifeng, Tongliao, Ulanhot, Manzhouli, Wuhai and Ordos. Besides air routes within Inner Mongolia, all these airports offer flights to Beijing and other cities of China. There are 342 train stations in Inner Mongolia, connecting the region with Beijing and cities in northeast and north China. Road traffic is also convenient. Highways are available to most of the tourist areas.
Places to stay
There are starred hotels and budget hotels in cities. The two five-star hotels are both in the capital city Hohhot, namely Xincheng Hotel and Inner Mongolia Hotel. Budget hotels and villas are available in tourist areas. You can also choose to stay in Mongolian yurts to experience the traditional life style of herdsmen, most of whom do not live in yurts any longer.
Things to buy
Milk products, the best of which are made in Xilin Gol League, jerked beef, the best of which is made in Tongliao City, Mongolian handicrafts such as Mongolian knives, silver drinking utensils and bowed stringed instruments with a scroll carved like a horse's head, edible black fungus and edible wild herbs.
Courtesy
When you are welcomed by Mongolian people, you are presented with hada, a piece of white or blue silk used as a greeting gift. Together with hada, they will also present you a small cup of distilled spirits.