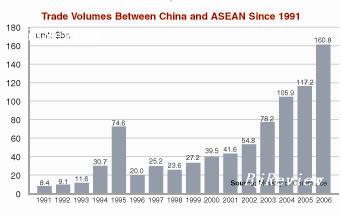 Full Steam Ahead
While celebrating 40 fruitful years of teamwork, ASEAN is pondering its future. Foreign ministers from ASEAN countries and the organization's dialogue partners held a series of meetings July 30-August 2 in Manila, the Philippines, to explore new frontiers for cooperation.
The 40th ASEAN Ministerial Meeting on July 30 saw ASEAN moving closer to having its own charter. The foreign ministers considered the first draft of the ASEAN Charter and provided the writers with further guidance to let them finalize the charter in time for the 13th ASEAN Summit in November 2007 in Singapore.
They also addressed a range of issues pertaining to ASEAN's community-building efforts. The foreign ministers agreed to establish a Committee on the Implementation of the ASEAN Declaration on the Protection and Promotion of the Rights of Migrant Workers, strengthen emergency consular assistance for ASEAN nationals in other countries, and designate ASEAN Day, which falls on August 8, as a special day in all member countries. ASEAN was established on August 8, 1967, in Bangkok, Thailand.
During the three days after the ASEAN Ministerial Meeting, the ASEAN foreign ministers turned their attention to strengthening ASEAN Plus Three cooperation with China, Japan and South Korea and deepening ASEAN's relations with Australia, Canada, the European Union, New Zealand, Russia and the United States in the ASEAN Plus Three Foreign Ministers Meeting, the ASEAN Post Ministerial Conferences and the 14th ASEAN Regional Forum.
While trade and cultural exchanges between China and its southeast Asian neighbors have spanned several hundreds of years, the establishment and growth of the Association of Southeast Asian Nations (ASEAN) over the last 40 years have cemented and formalized their ties.
Formed in 1967, ASEAN promotes economic growth, social progress and peace and stability in east and southeast Asia. The 10 countries that comprise ASEAN today are considered an economic and diplomatic tour de force by the international community.
China started working with ASEAN in 1991. In recent years, the country has expanded its work with ASEAN to form a strategic partnership that advances regional peace, economic development and prosperity, and will allow both to jointly cope with future challenges from other political and trade coalitions.
During the past 16 years, both China and ASEAN as a whole have benefited from this relationship. The volume of China-ASEAN trade has increased more than 20 times during this period (see the graph). The two now are trying to fashion a free trade zone. They also have been working on additional joint development and infrastructure projects.
The five original founding members of ASEAN were Indonesia, Malaysia, the Philippines, Singapore and Thailand. They later were joined by Brunei, Cambodia, Laos, Myanmar and Viet Nam. The organization also has one candidate state, Timor-Leste; Papua New Guinea has been an observer since 1976. The framework of "10+3" is a cooperative forum comprised of the 10 ASEAN members along with three East Asian countries of China, Japan and South Korea; and "10+1" is comprised of ASEAN and one of the three East Asian countries.
Trade boom
China's economic cooperation with ASEAN has grown tremendously over the last few years. ASEAN is now China's fifth largest trading partner, and its biggest trade partner among developing countries. The average yearly trade between China and the ASEAN member countries has grown by more than 20 percent since 1992, according to China's Ministry of Commerce, and the bilateral trade volume between China and ASEAN reached $160.8 billion in 2006, a 23.4-percent increase over their total trade in 2005. Their trade volume this year is expected to hit $180 billion-$190 billion, said Xu Qisong, an official in the Asian Department at the Ministry of Commerce. He cited the figures at a China-ASEAN trade and investment summit meeting in Beijing in early February.
ASEAN has been an important investor in China, with average annual investments of about $3 billion, most of which have been in the manufacturing and service industries. In recent years, Chinese enterprises have begun investing in ASEAN countries. In 2006, they pumped $200 million in ASEAN nations, mainly in the manufacturing, agriculture, trade and real estate sectors.
ASEAN is also China's main market for construction contracts. In 2006, China inked deals with ASEAN that totaled $43.85 billion. Of that amount, China signed contracts valued at $8.84 million with Singapore. The China-ASEAN Expo (CAEXPO), which since 1994 has been held annually in Nanning, capital of south China's Guangxi Zhuang Autonomous Region, serves as an important platform for economic and trade cooperation between China and ASEAN.
China and ASEAN's member countries are planning to enhance their regional cooperation in 10 key fields, including agriculture, human resource development, investments, exploration of the Greater Mekong Region, transportation, energy, culture, tourism, public sanitation, and information technology and telecommunications. They also work together in the areas of legal affairs, communication among youths and non-traditional security.
Besides, the two sides have set up the China-ASEAN Development Foundation, a group that will support China-ASEAN regional cooperation in various areas.
Let prosperity reign
China's ties to ASEAN also serve as a strategic political partnership that fosters regional peace and prosperity through a dialogue system consisting of summit meetings, nine ministerial meetings and five working-level discussion sessions.