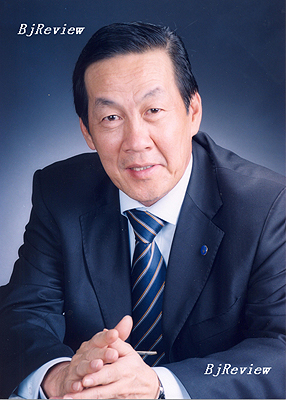 A 40th anniversary is always a special occasion for celebration and reflection. For the Association of Southeast Asian Nations (ASEAN)a regional organization that groups 10 countries in Southeast Asia,the proudest part of its 40-year history is that it has helped preserve peace in the region, according to Chin Siat Yoon, Singapore's Ambassador to China. Singapore is one of ASEAN's five founding members. In an interview with Beijing Review reporter Yan Wei, Chin discussed his observations on ASEAN's achievements and challenges, as well as its integration process and cooperation with China.
Beijing Review: Singapore, which holds the rotating chairmanship of ASEAN from August, plays a leading role in celebrating the 40th anniversary of ASEAN. What is the theme of the celebrations? What message does ASEAN want to convey to the world on this special occasion?
Chin Siat Yoon: ASEAN has chosen the theme "One ASEAN at the Heart of Dynamic Asia" for its 40th anniversary celebration. As the theme makes clear, our aim is to continually strengthen ASEAN, enhance its internal coherence and ensure its continued relevance in a very dynamic region of the world.
What do you think is ASEAN's greatest achievement during the past 40 years? What are the challenges that still lay ahead?
ASEAN has every reason to be proud of its many achievements. If you ask me what ASEAN's single greatest achievement over the past four decades is, I would say that it has helped preserve peace in the region. When ASEAN was first formed four decades ago, many analysts and observers believed that it would soon go the way of several earlier attempts at forming a regional organization-that is, into oblivion. As recently as in the early 1990s, a popular prediction was that with the resolution of the conflict in Cambodia, the glue that bound ASEAN together was no more, and the regional organization would fall apart. This, as you know, did not happen. I think the pessimists have tended to ignore or underestimate the fact that ASEAN countries have, over the years, learned the merits of working together and that we have developed a culture of consultation and cooperation among ourselves, which in turn, has spawned a sense of community.
That this sense of community is rapidly gaining strength is amply evident in the decision taken by our leaders at the last ASEAN Summit in Cebu to bring forward the establishment of an ASEAN Community from 2020 to 2015.
Looking into the future, there are obviously many challenges that lay ahead. The experience of the EU shows how difficult it is for different countries to come together. And ASEAN countries are inherently more diverse and disparate compared to their European counterparts. I would place these challenges in two broad categories: internal [to ASEAN] and external. Internally, ASEAN needs to enhance its cohesion by moving toward a rule-based system and placing greater emphasis on institution building. The ASEAN Charter, which was presented to the foreign ministers for deliberation at the recent ASEAN Ministerial Meeting in Manila, would enhance the effectiveness of ASEAN. Judging from developments thus far, we are making good progress toward the unveiling of the charter at the November Summit in Singapore. Externally, ASEAN needs to work together to ensure a benign environment that is conducive both to its growth and to its continued relevance.
To sum up, ASEAN has come a long way, but more challenges lay ahead. To deal with future challenges, a cohesive and integrated ASEAN is sine qua non. One of the founding fathers of ASEAN, Singapore's first Foreign Minister Sinnathamby Rajaratnam, made this observation quite some time ago-"ASEAN member countries must strive to marry national thinking with regional thinking." I think the time has come.
How will Singapore promote ASEAN integration during its chairmanship?
ASEAN, as I mentioned before, is characterized by great internal diversity and disparity. To promote ASEAN integration entails two important thrusts. The first is to narrow the economic disparity among the countries; the second is to boost the sense of an ASEAN community.