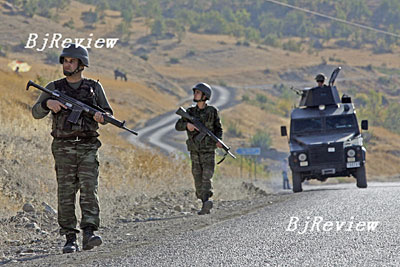 Long-standing tensions between the Turkish Government and the Kurdistan Workers Party (PKK) mounted last month when Ankara decided to launch military attacks in north Iraq on the Turkish Kurdish armed forces based there. The Turkish Government resorted to this action after it had criticizing the Iraqi Government's ineffectiveness on striking the PKK forces inside the country.
On October 17, Turkey's Parliament approved a motion for cross-border military action. Later that month, the Turkish military entered Iraq and carried out small battles with the PKK. Now, it appears that the Turkish military and the PKK are on the verge of a full-blown war.
The Kurd issue has a long history that involves several countries in the volatile Middle East. Foreign affairs experts believe the issue will make the complex regional situation, especially in Iraq, even messier.
Rooted in the past
The Kurd issue is rooted in post-World War I colonialism, said Wang Jinglie, a senior researcher with the Institute of West Asian and African Studies at the Chinese Academy of Social Sciences. "It is a common problem for several countries," he said.
After the war, the Entente Powers - Britain, France, Russia, Italy and the United States - signed the Treaty of Sèvres with the defeated Ottoman Empire in 1920. The treaty stipulated that the empire's Kurdish region would become a Kurdistan autonomous administration. This requirement was ignored, and the Kurdish region was divided into several different countries along with the rest of the Ottoman Empire. Although these countries finally became independent, the Kurd issue remained unresolved.
Today, the Kurds are spread over four countries - Turkey, Iraq, Iran and Syria. They account for 10 percent to 20 percent of the population of each country.
"Independence is the goal of Kurdish people in these countries," Wang said. During several rounds of liberation movements, the Kurdish people could have united and established their own country if they had seized the opportunity. "Since the world has widely accepted the existing boundaries among countries, now is not a good time for Kurdish people's independence," he said.
The existing situation is painful for many countries, because once order has been broken, the problem will take on a greater magnitude, Wang said. Under these circumstances, the Kurd's quest for independence would be considered a move to split Iraq, he said.
Complications of war
After the Iraq war started in 2003, Shiites, Sunnis and Kurds shared Iraq's power evenly. Iraq's Kurdish population lives in an autonomous administration. Kurds living in Turkey, especially members of the PKK, strengthened their ties with Iraqi Kurds in an effort to establish an independent Kurdistan.
For Turkey, the PKK's goal of independence is intolerable. First, it would split the country. Second, the Kurdish area in Turkey has ample natural resources.