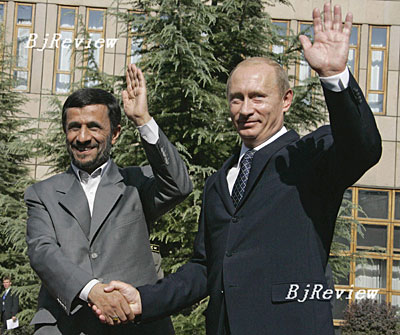 Iran has been sticking to its guns by defying calls for it to stop enriching uranium. It may be easier for the country to continue its plans now that Russia has given tacit approval to its nuclear program, Chinese experts on world affairs said.
Russia made its support clear in mid-October when President Vladimir Putin visited Iran, although he did not promise to give the country any practical assistance.
Iran has been under increasing international fire over its nuclear program. The country insists on its right to enrich uranium for civilian power generation. In early September, Iran said publicly that it had installed 3,000 centrifuges, the machines that enrich uranium.
Although the Security Council has imposed sanctions on Iran, the United States and other major powers have called for tougher ones, believing that Iran intends to produce nuclear weapons. The American media warned that if Iran did not change its stance, the United States would launch a military strike on the country.
The recent resignation of Ali Larijani, Iran's chief nuclear negotiator, on October 21 has caused more international consternation. His replacement, Saeed Jalili, is considered a loyalist of Iran's President Mahmoud Ahmadinejad.
Common needs
Putin's visit was mutually beneficial to both Iran and Russia, said An Huihou, a former Chinese ambassador to Egypt, Lebanon and Algeria, who is now a senior researcher at the Chinese Institute of International Studies (CIIS). For Iran, his trip was a milestone in diplomatic aspects, because no Soviet or Russian leader had traveled to the country since Josef Stalin went there in 1943. During Putin's Tehran tour, he held talks with Ahmadinejad and Iran's Supreme Leader Ayatollah Ali Khamenei.
Putin's visit was a strong signal to Iran and the rest of the world that its stance on Iran's nuclear program differs from the United States and other major powers. Before Putin traveled to Tehran, he said there was no evidence that Iran intended to produce nuclear weapons.
During the visit, Putin also attended the Second Summit of the Caspian Sea Littoral States, a meeting of regional leaders from Russia, Azerbaijan, Iran, Turkmenistan and Kazakhstan. The countries' leaders issued a joint statement after the summit with three major points: that they would support Iran's right to peacefully use nuclear energy; that the oil and natural gas resources around the Caspian Sea should be jointly exploited by the five countries; and that no Caspian Sea country should allow its land to be used to attack a fellow coastal country.
The joint statement provided much comfort to Iran at such a sensitive moment, An said. While Putin's trip was not just to comfort Iran, it was a good opportunity for Russia to tell the United States that its stance on Iran's nuclear issue was important, he said.
"Recently, Washington has quickened its pace to squeeze Moscow's strategic space in Central Asia and Eastern Europe," An said. "Putin's attitude is a kind of counterpunch to Washington," because the enlargement of the NATO and the "color revolutions" in former Soviet Union states that formed Russia's traditional security strip were pushing Russia back to its bottom line.