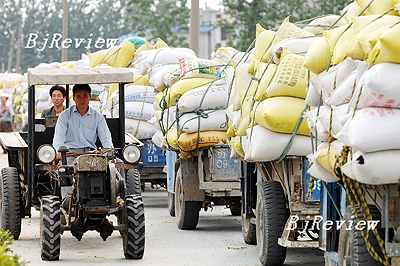 The Chinese Government has pledged to secure a stable supply of farm produce. According to a document released after the annual Central Rural Work Conference held on December 22-23 in Beijing, preventing short supplies of farm produce and avoiding "extreme fluctuations" in farm produce prices would be top priorities of the government.
This is related to the task decided at the high-profile Central Economic Work Conference to prevent current price increases from becoming evident inflation. Guo Jianjun, Director of the Comprehensive Research Division of the Department of Rural Economy under the Development Research Center of the State Council, said that securing a stable supply of farm produce plays an important role in preventing inflation.
Inflation has become a major concern. Rises in food prices such as grain, pork and cooking oil in late 2007 lifted the nation's consumer price index (CPI) to an 11-year high of 6.9 percent in November, well above the government-set 3 percent target. Ensuring a stable supply of farm produce is good news to most Chinese people who spend much of their money on food.
The day after the conclusion of the conference, Minister of Agriculture Sun Zhengcai said that the government will strive to increase production of pork in 2008 to 53 million tons, ensuring that pork supplies will not run short. Among all factors pushing up the CPI, pork had the largest price rise and pushed up the CPI the earliest.
More measures
With the aim of stabilizing farm produce supply, officials at the Central Rural Work Conference made it clear that work must be done in six respects: increasing investment in agriculture and rural areas, raising farmers' income, improving agricultural infrastructure, advancing technical progress, revving up social benefits in rural areas and perfecting business operation systems in rural areas.
Also put forward at the conference was that investments in the agricultural sector from fiscal revenue would be greatly raised and fixed asset investments in the rural areas would be elevated to a markedly higher level than last year.
In 2007, the Chinese Government strengthened its support for agriculture and rural areas, investing a total of 390 billion yuan ($53.42 billion) through the year. Among these, investments from treasury bonds and central budget funding directly used to improve production and living conditions in rural areas reached 36 billion yuan ($4.93 billion).
Information from the Ministry of Agriculture (MOA) shows that in 2008, investment in agriculture and rural areas will not be lower than 400 billion yuan ($54.79 billion) and two investments have been fixed: Based on the 6 billion yuan ($821.92 million) of investment in 2007 to solve drinking water problems for 28.97 million rural residents, the Central Government will arrange another 6.4 billion yuan ($876.71 million) for 32 million rural people in 2008; and another 2.5 billion yuan ($342.47 million) from treasury bond capital will be earmarked to convert 5 million rural households to using marsh gas.
Besides these efforts, government investments will mainly come in the form of direct subsidies for grain, subsidies for improved varieties of grain, subsidies for farm machinery and tools, as well as infrastructure investments and science and technology promotion.
According to Guo, the government will make great efforts to carry out policies supporting and benefiting agriculture and farmers.
Stabilizing grain production
Maintaining robust grain production has long been a consistent aim of the Chinese Government. The Central Rural Work Conference stipulated that in 2008 stabilizing sowing areas of grain, increasing per-unit area yield and ensuring stable development of grain production would be top priorities.
In 2007, China's grain output surpassed 500 million tons and in recent years the country's grain output has stood at 490-500 million tons. In theory, the supply and demand of grain should be balanced. However, the total grain supply has always failed to catch up with the increase in total demand.
According to Guo, domestic prices of farm produce now depend not only on the supply and demand situation in the domestic market, but also on changes in the international market. Development of biomass energy in the world has led to larger volume of China's grain exports which can be converted to ethanol.
In recent years, China has adopted a rebate rate of 13 percent on its corn exports. Owing to higher prices of grain on the international market, China's grain exports, with corn contributing the largest proportion, are increasing rapidly. Statistics from the General Administration of Customs showed that in the first 11 months of 2007, China exported 4.87 million tons of corn, 85.3 percent more than during the same period in 2006. At the same time, grain imports decreased by a large margin.
In order to change this situation, the Chinese Government abolished tax rebates on exports of some 84 categories of grain including wheat, corn, rice and soybeans. These exports lost their rebate as of December 20, 2007.
Exports have not been the only culprit behind the shortage of grain. Reduced agricultural land and lands abandoned because of lower grain prices have made a dent as well. Because of this, officials at the Central Rural Work Conference are requiring the strict implementation of all supporting policies, protecting and mobilizing initiatives for farmers to grow grain, stabilizing land contracting relationship in rural areas and protecting farmers' rights to contract land.
Specific actions
On the same day the Central Rural Work Conference was held, the MOA also organized a national agriculture work conference in Beijing. Minister Sun said that comprehensive measures must be adopted to ensure effective supply of farm produce. He said this must be based upon developing the domestic market and making an overall plan for both the domestic and international markets.
In Sun's view, when looking at demand, in recent years, influenced by natural disasters, both production and inventory of some major farm produce exporters in the world have declined. Particularly, driven by climbing oil prices, biomass fuels are developing fast, influencing the supply and demand of farm produce in the world. Produce prices are expected to remain high in the foreseeable future because of these factors.
In terms of supply, China's agricultural development is increasingly limited by a shortage of resources. Compared to a decade ago, China's area of cultivated land has been reduced by 24.8 million hectares and the quality of cultivated land is also deteriorating. Two thirds of the cultivated land has low or medium yield. Together with inadequate investments in the agriculture sector, the lack of technological contributions and other factors, the task is very arduous to improve overall agricultural productivity.
According to Sun, to ensure effective supply of farm produce, specific measures must be adopted.
Sun pointed out that to solve the problem of increased pressure on grain supply, China must first be able to support itself. For example, the sowing area of rice must be stabilized and per-unit area yield must be increased.
Rice is the most planted and most consumed crop in China. In Sun's opinion, consumption of rice will continue to rise in the future. To develop rice production, the government will strengthen subsidies for planting rice, increase sowing areas and improve the per-unit area yield.
In terms of wheat, which is also in great demand, Sun said that efforts will be made to develop high quality special wheat, encourage and develop the integration of production and sales and improve yields.
As for corn, the principle providing for human consumption must trump the increase in supplying corn for industrial consumption. Using corn to produce biomass fuels should be strictly restrained.
In 2007, meat production experienced major fluctuations. According to Sun, stable development in this sector will be a focus in 2008, with efforts made to prevent and control diseases, establishing and perfecting pre-warning systems and constructing coordination measures and promoting the transformation of feeding patterns.
Moreover, the government will also strengthen the mechanism to stabilize the prices of cotton and sugar, improve the quality of vegetables and fruits and their downstream processing, and promote the development of healthy aquaculture and deep-sea fishing.
"In 2008, the government will do its utmost to ensure that the grain output is above 500 million tons and per-capita income of rural residents increases more than 6 percent," Sun said. "It will also make efforts to expand sowing areas for oil crops and soybeans and increase the per-unit area yield by 1 percentage point."