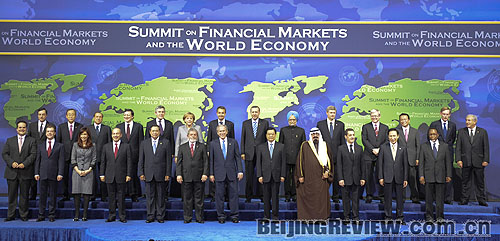 JOINT EFFORT: Leaders of the G-20 and international organizations pose during the global financial summit on November 15 in Washington, D.C.
As the international financial crisis plunges many countries into economic turmoil, China's relatively stable economic growth is reassuring to the international community.
As a result, the world is paying more and more attention to China's opinions about the ongoing crisis and possible solutions. Chinese leaders and economists recently made a series of suggestions for reforming the current international financial system.
China's efforts
Chinese President Hu Jintao participated in the Group of 20 (G-20) Summit on Financial Markets and the World Economy held on November 15 in Washington, D.C., where he delivered a speech calling for international cooperation to get through this "difficult moment."
In his speech, Hu clearly stated the Chinese stance on international financial reform. "Reform of the international financial system should aim at establishing a new international financial order that is fair, just, inclusive and orderly and fostering an institutional environment conducive to sound global economic development," he said.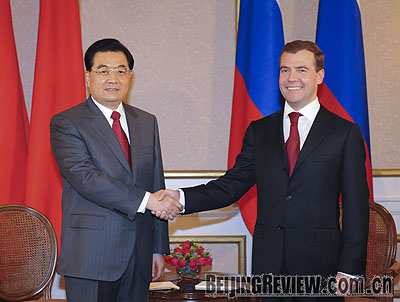 STRENGTHEN BILATERAL TIES: President Hu Jintao (left) meets with Russian President Dmitry Medvedev during the summit on November 15 in Washington, D.C.
The Chinese Government has taken many measures to safeguard economic development and financial stability. After the crisis began, China made timely adjustments to its policies and strengthened macroeconomic regulation, Hu said. These adjustments included lowering the bank required reserve ratio, lowering interest rates and easing corporate tax burdens. Hu also promised to play a "constructive role" in restoring the international financial system and suggested four key reforms: increased international cooperation in financial supervision, reform of international financial organizations, increased regional financial cooperation and diversification of the international monetary system.
As the world's most populous developing country, China would make an important contribution to international financial stability and world economic growth simply by maintaining steady economic growth, the president said. Several days before the summit, China announced a 4-trillion-yuan ($586 billion) economic stimulus plan. Observers believe that the plan, which concentrates on stimulating domestic consumption in China, may restore confidence in world economic development.
In a November 16 Xinhua report, Chinese Foreign Minister Yang Jiechi outlined five achievements that came from Hu's participation in the financial summit. First, he met with other G-20 leaders to discuss the root causes of the financial crisis and possible solutions and reforms, which they described in a joint statement. Second, Hu introduced measures the Chinese Government has taken to safeguard economic growth and financial stability. Third, he helped guide the direction of international financial reform. Fourth, Hu called for international efforts to help developing countries. Finally, Hu promoted China's bilateral relationships with several countries by meeting with their leaders during the summit.
Cooperation, not competition
Chinese economists also had opinions on the current world economic situation. They provided suggestions for reforming the international financial system and maintaining economic and financial stability in China.