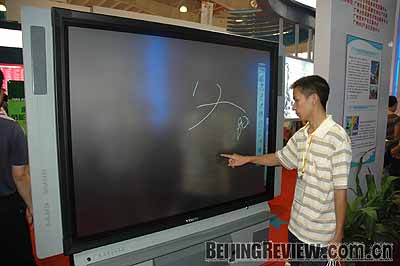 PATENT PROMOTION: A visitor writes on a touch screen at a patent and brand expo held in Shunde, Guangdong Province, in 2008 

On December 27, 2008, the Standing Committee of the National People's Congress (NPC) approved a newly revised Patent Law, which will take effect on October 1, 2009, by an overwhelming majority. This is the third amendment to the Patent Law implemented in 1985. Different from the previous two amendments that focused on importing advanced technologies and intensifying intellectual property rights protection for foreign investors, this new amendment has attracted widespread attention for it was adopted at a time when China is boosting the capability of independent innovation and building an innovative country.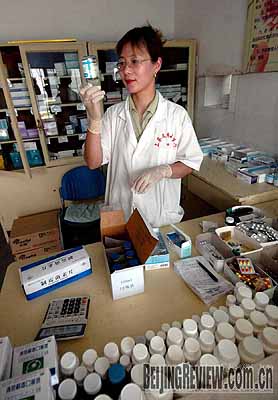 FIGHTING EPIDEMIC: A pharmacist in a village in Henan, hit hard by AIDS, distributes medicine backed by a government fund (XINHUA)
"The amendment is aimed at encouraging innovation and strengthening patent protection," said Chen Guangjun, a senior official with the NPC's Education, Science, Culture and Health Committee, at a press conference after the NPC session ratifying the amendment.
Lacking integration
China has made it a national strategy to boost the capability of independent innovation and build an innovative country. In the meanwhile, demands for comprehensive intellectual property rights have become more vocal.
China has enacted about a dozen laws or administrative regulations on intellectual property rights, including laws on patents, trademarks and copyrights. These laws and regulations have addressed the various aspects of intellectual property rights, yet consistence between these laws and regulations is a problem. Chen pointed out that in some cases these laws and regulations overlap or contradict with each other. In addition, some administrative regulations on intellectual property rights management are not well enforced.
China has made significant progress in improving its civil law system. For instance, it has enacted the Property Rights Law and the Contract Law and is in the process of enacting a tort law. It is a pity that China does not yet have an overarching intellectual property rights law, said Chen.
According to Chen, while deliberating on the national strategy of intellectual property rights published earlier in 2008, the legislative bodies studied the desirability of an overall intellectual property rights law. The general view was that as there were advantages and disadvantages to either an integrated law or separate laws, more research should be done before an integrated law could be tabled for legislative deliberation.
Yin Xintian, Director of the Treaty and Law Department under the State Intellectual Property Office, thought that enhancement of the legal system must proceed from realities and should be carried out step by step. "The intellectual property rights system was set up in China just a little over two decades ago, while it has been in place in the West for hundreds of years," Yin said.
Chen agreed that the right time for overarching intellectual property rights has not come yet. He believes the pressing issue now is to tackle specific problems and improve relevant laws on intellectual property rights. When the right time comes, China will enact an intellectual property code or include a relevant chapter in its civil law code.
Patent abuse not included
With the deepening of globalization, there are a rising number of cases of foreign companies abusing patent to exercise monopoly in the Chinese market. Such practices hurt the interests of other companies in the market. Article 62 of the newly revised Patent Law states that in a patent infringement dispute, where the accused can prove that the technology or design exploited by it or him belongs to prior art or prior design, the said exploiting act shall not be considered an infringement. This will prevent companies from engaging in unfair competition, Chen said.
As to why patent abuse is not included in the Patent Law, Chen explained that at present, patent protection is insufficient, so protection of patents is more pressing than addressing patent abuse.