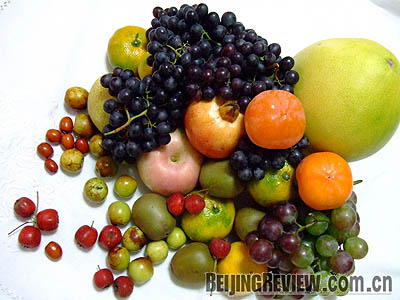 Hu Xiao, a 28-year-old office worker in Beijing, has more than 10 bottles of vitamin pills in her office drawer. As an urban professional, highly paid and highly stressed out, she relies solely on various vitamins to balance her nutrition intake.
"To be frank, I don't know if these costly pills really work or not," she said. "Usually I buy what I see most on TV ads. I feel tired often and easily catch colds, especially with season changes."
Hu is typical of city dwellers who have fallen under the spell of vitamin pills. Long work hours make eating fresh fruits a luxury compared with the convenience of popping a pill. With the overwhelming marketing hype surrounding hi-tech vitamins and nutritionally-rich juices, many urbanites now feel that popping a pill is equivalent to eating a bunch of fresh fruits.
Added to this convenience, high prices, pesticide residues and the hassle of peeling, all make people shy away from fruits.
Despite the fad for vitamin pills, more and more scientific research and nutrition experts say that fresh fruits and vegetables are essential parts of one's daily nutrition intake.
Wang Longde, President of the China Preventive Medical Association, told Beijing-based Guangming Daily that fruits contain essential minerals that cannot be produced by the human body.
Fruits also contain pectin, a type of soluble fiber that helps with reducing blood cholesterol density, as well as vitamins that are a powerful antioxidant preventing cholesterol from "oxidizing" and cells from aging.
Some studies find a lower risk of cancer among people who eat more fruits and vegetables rich in carotenoids and Vitamin C. Others find a lower risk among people who eat more of any fruits or vegetables.
The American Cancer Society (ACS) website said that studies suggest that people who eat more fruits and vegetables, which are rich sources of antioxidants, may have a lower risk of some types of cancer. ACS also said that clinical studies of antioxidant supplements are currently underway but have not yet proven to reduce cancer risk from vitamin or mineral supplements. To reduce the risk of cancer, ACS said the best advice at present is to get antioxidants through food sources, rather than supplements.
Food for all reasons
Even though someone like Hu takes extracted vitamin and pectin pills, fruits and vegetables are still irreplaceable. In contrast to synthesized vitamins, natural plants contain a range of vitamins that work together in an unknown but effective ratio. What's more, fruits and vegetables may well contain other unknown but beneficial biologically active elements, Wang said in his article in Guangming Daily. Some Chinese scientists have an expression: Man-made never matches up to heaven-made. "For average people, vitamin pills cannot and will not be able to take the place of fruits," Wang said.
The benefits of fruits on health have long been cherished by people all over the world and the saying, "an apple a day keeps doctor away," has been chanted for decades. Li Shizhen, a famous Chinese pharmacist (1518-93), pointed to the various attributes of fruits in his medical book Bencao Gangmu (Compendium of Materia Medica), still read by people today.
It is also recognized that eating fruits is more favorable than drinking juices, as the juicing process may destroy the utilizable vitamins and fiber contained in the fruit, while chewing fruits is also beneficial to clean the oral cavity and intestinal tract, said Wei Hong, a senior nutritionist and member of Chinese Nutrition Society. She went on to say that juices' GI (Glycemic Index) Value, a ranking of food based on its intermediate effect on blood sugar levels, is higher than fresh fruits. High GI Value food has a negative effect on health, increasing the risk of heart disease and diabetes, said Wei.
The World Health Organization encourages average people to take five portions of fruits and vegetables a day and the nutritional value of what these five portions contain varies greatly. Plum, loquat, coconut and apple are generally suitable for all body types. Different seasons have different fruits to match. On warm summer days, oranges, water chestnuts, bananas, pears, persimmons and watermelons are the best choice. On a cold winter's day, so-called moderately warm fruits in Chinese medicine, such as Chinese dates, chestnuts, peaches, apricots, longans, lichees, grapes, cherries and pineapples, can make up the lost heat. Autumn is a dry season, when pears and bananas make people moisturized. Bananas also help with constipation.
A leading Chinese science newspaper, Science and Technology Daily, said that fruits might positively impact on diseases. The paper went on to say that generally, diabetics are supposed to control their fruit intake, but eating fruits rich in glycolic acid, such as pineapples, grapes, cherries, lemons sand waxberries, helps adjust the insulin excretion. The best fruit for high-blood-pressure is melon from Hami City in Xinjiang Uygur Autonomous Region, which is rich in kalium, which lowers blood pressure.
Nature's doctor
Fruits in a variety of colors-red, dark green, yellow, blue, purple, white and orange-not only provide a treat for the eyes, but also offer a broad range of nutrients. The correlation between color and nutrients help people choose the right type, said Wei. Orange-colored fruits such as oranges and Hami melons are rich in cancer-resisting Vitamin C. Purple fruits, like grapes and plums, containing proanthocyanidin, are especially effective in easing eye strain and protecting blood vessels. The red color of tomatoes, strawberries, watermelons, peaches and apples indicates a rich supply of carotenoid, which enhances immunity and prevents aging.
Fruits can also help with some common ailments. A savory pear soup with crystal sugar can heal a cough, and has been used by the Chinese for hundreds of years, while porridge with Chinese dates and gouqi (wolfberry) is great for combating bouts of insomnia.
In the beauty stakes, women can take heart. Chinese dates and tomatoes bring a rosy glow, while kiwi fruit and lemons are said to diminish freckles. Mulberries and dark plums are great for keeping hair dark and shiny.