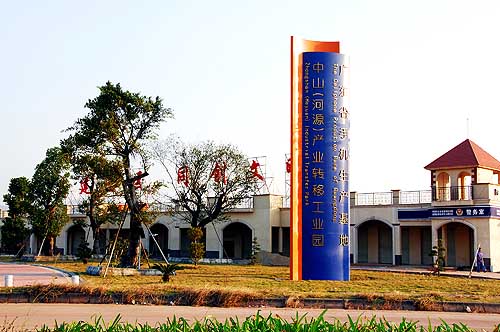 NEW HOME: Of the seven industrial parks for businesses that transferred from the Pearl River Delta, Zhongshan Park is one that serves as a new home for mobile phone makers (COURTESY OF HEYUAN MUNICIPAL GOVERNMENT) 
Two hours drive northeast from Guangzhou, the provincial seat of China's export-oriented manufacturing base, makes a huge difference. Here in Heyuan, a Hakkanese town in a mountainous area of south China, poverty is a label of shame for officials.
Heyuan, which literally means "the origin of rivers," is located on the upper reaches of the Dongjiang and Xinfengjiang rivers, which provide drinking water for more than 40 million people in Hong Kong and other cities. Entrusted with guarding the mother rivers from pollution, Heyuan was late to industrial development.
As one of the poorest cities in China's richest province, Heyuan's per-capita GDP stands at only one fourth of Guangdong's average and half the national average.
After years of seeking an appropriate development model, the local government decided to adopt an eco-friendly policy in 2003.
"The unpolluted environment is our only comparative advantage now," Heyuan Mayor Liu Xiaohua said in an exclusive interview. "We cannot feed the more than 3 million local residents without developing industries, but it will lead to a dead end if we pollute the environment in the process."
Environment first
Thanks to this understanding among local officials, Heyuan was Guangdong's only prefecture-level city free from acid rain last year, according to the province's annual communiqué on environmental status released on March 23. The city hasn't received acid rain for the past four years in a row. Of the province's eight large reservoirs, only the water of the two in Heyuan is classified "quality I."
While ensuring local residents a better living environment, environmental protection brings the city economic benefits as well. Heyuan earns several billion yuan a year selling drinking water to other cities.
The city runs Evergreen Lake, one of its two reservoirs, differently from another manmade lake formed in 1958, Zhejiang's Qiandao Lake. While the latter is now a famous tourist resort with luxury hotels, Evergreen Lake remains more a source of drinking water, excluding tourist services such as catering and hospitality.
That explains why the municipal government gave the local environment watchdog veto power over industries and businesses that, squeezed by soaring costs, are looking to move out of the Pearl River Delta and settle down in Heyuan. According to Liu, they have rejected more than 300 projects so far.
"We have to create a win-win situation for local economic growth and environment protection because we have more than one reason to do so," Liu said.
Drawing lessons from coastal cities such as Foshan and Dongguan, which secured high growth at great cost to the environment, Heyuan has closed down 463 illegal mines and 19 small iron and steel plants in the past two years.