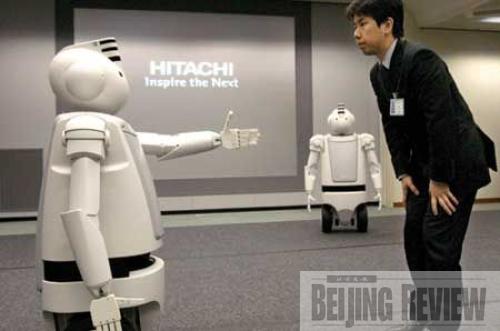 Communication: A robot for the 2010 Expo communicates with a man (66WZ.com) 
Shanghai Yingsi Software Technical Co. Ltd. (Yingsi Co. for short) has developed various kinds of robots for the 2010 World Expo. Visitors at Expo in 2010 will receive a cup of coffee from a lovely robot beauty, enjoy music performed by a robot band, and watch a kungfu robot demonstrate the popular martial art taiji. They may also have a chat with a virtual robot while surfing the Internet.
Virtual robots
Visitors who have lost their way or want to check the programs of various pavilions at the Expo can switch on their computer or mobile phone. An intelligent robot will then appear to answer all their questions or even chat with them. This is Dr. Haibao.
Dr. Haibao, the virtual robot born in June, is an attendant for the Expo. It helps visitors check maps and weather broadcasts by way of chatting, and provides all kinds of Expo information, Yuan Hui, CEO of Yingsi Co., told China Business News on July 10. 
The virtual robot has attracted more than 12,000 users since its development. It will be continuously upgraded in terms of its communication skills and its related knowledge from now until the end of the 2010 Expo, according to Yuan.
"The robot industry, like the computer industry 30 years ago, has no trade standard to apply," Yuan told The Bund Pictorial on June 30. "Invention is required for every one of the trade."
Yuan noted that virtual robots in China have been keeping abreast with the world, and are expected to enter households in one or two years, compared with physical robots. "The Shanghai Expo will be a good stage to show them," said Yuan.
Since the number of visitors to the 2010 Expo is expected to reach up to 80 million, the heaviest task for virtual robots is to provide help for visitors. "As long as you have your mobile phone registered, you may have a virtual robot tell you the most convenient information about roads and hotels," said Yuan.
Yuan first developed a virtual robot known as "little i" in 2003, which has talked with more than 22 million Internet surfers. He recently received permission to transform the fuwas, the Beijing Olympic mascots, into robots using "little i" technology. The aim is for each mobile phone user and netizen to be able to chat with the fuwas.
Beauty band
A robot band is scheduled to perform at the Expo in 2010. The research and development of the robot band started in 2005, according to Yang Jun, Director of the Robot Research Office at Yingsi Co.
Two robots displayed at the company lab could be deemed Oriental beauties, with black hair, smooth skin and long skirts. Touching the electric board behind the two robots prompts them to play a piece of music--one with a flute, the other with a clarinet--as they walk around.