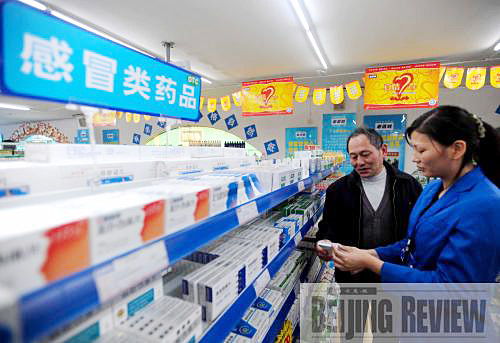 FEELING SAFE: A pharmacy in Changsha in Central China's Hunan Province helps a customer on November 11, 2008 (LI GA) 
China's Health Ministry released a list of essential medicines in late August as part of a 10-year plan to ensure access to needed pharmaceuticals and to lower medical costs.
Essential medicines are those which satisfy healthcare needs and are available to the public at all times, in adequate amounts and at an affordable price.
The list contains 307 categories of medicines, including 205 kinds of chemical and biological products and 102 kinds of Chinese patent medicines.
The plan stipulates that by the end of 2009 about 30 percent of state-owned local health institutions will be equipped with all the essential medicines on the list. Those institutions will be required to set priorities for their use when treating patients.
An initial essential medicine system will be in place by 2011, and by 2020, all state-owned urban and rural health institutions should give priorities to using essential medicines.
A big step
"The national essential medicine system is a big step forward in cutting healthcare inflation and making medical bills affordable for all. The essential medicine list published along with the system can be considered as one way of ending hospitals' reliance on sales of medicines for profit," said Zheng Hong, Director of the Drug Policy Department of the Ministry of Health.
Building an essential medicine system is part of China's three-year medical reform plan that was unveiled last April, he said. The plan aims to lay a solid foundation for equitable and universal access to essential health care for everyone in China by 2020.
In recent years, an unreasonable medicine supply system allowed hospitals to rely on medicine sales to generate profits, which led to excessive medical bills, he said.
The other problem that beset the system was that pharmaceutical companies were not producing cheap but effective medicines. Instead, the companies focused on manufacturing medicines that were more profitable and patients had no choice but to pay higher prices. Those higher costs were passed on to the government.
The government aims to cover more than 90 percent of the entire population by 2011 through healthcare reform. Currently, China's annual medicine costs come in at 500 billion yuan ($73.21 billion), which comprises more than 45 percent of the country's total healthcare expenditures, official statistics show.
"It's much higher than the international average of 20 to 30 percent," said Li Ling, a professor with the China Center for Economic Research at Peking University.
Use of the more common, essential medicines only makes up 25 percent of all medicine being used currently at health facilities, she said.
"The situation must be changed and in this sense, the initiation of the essential medicine list paves the way for further reform of the healthcare system," Zheng said.
He said the essential medicine system will prohibit doctors from using more expensive unlisted drugs. Those on the list will be sold at local urban and rural health facilities with no cost added, which is expected to slash expenses for patients and, at the same time, stop over-medication and overuse of antibiotics.
"Such measures will also ensure that rural citizens with comparatively low incomes use cheap and safe medicines," he said.
In accordance with healthcare reform plans, all essential medicines will be included in the reimbursement system and their rates will be significantly higher than those for other drugs, he said.
Needing more guarantees
With the initiation of the reforms, the use of essential medicines is expected to increase sharply. Authorities should take measures to guarantee quality and prior use of the essential medicines, said Xu Jiaqi, Vice Director of the Department of Policy and Regulations at the State Food and Drug Administration.
In order to choose the most appropriate essential medicines, authorities organized professional institutions and experts to complete multidisciplinary research into 16,000 kinds of medicines on the market. From that group they formed the essential medicine list, he said.
"The essential medicine list will be adjusted every three years with respect to changes in health demands," he said.
Drugs that are shown to cause serious adverse reactions would be removed from the list.
To ensure that the policy is implemented properly, the authorities should see to it that the list is comprehensive and that doctors prescribe basic drugs from it, he said.
"Patients have the right to know whether doctors are prescribing medicines from the list, and it is obligatory for physicians to explain the prescriptions," said Li.
Zhao Mingwu, who heads the Internal Medicine Department at Peking University's Third Hospital in Beijing, said the institutional guarantee is an efficient way to ensure the priority of using the essential medicines.
Liu Wenwu, an official with the State Administration of Traditional Chinese Medicine, said the Ministry of Health and the administration are working on formulating a clinical guide for using the medicines.
"After the guide is complete, it will be able to regulate doctors' medical practices and prevent the unreasonable use of the approved medicines," he said.