TENDER CARE: An infant boy receives medical treatment in an Anhui hospital on September 26, 2008. By 2020, China will have a basic health care system that can provide "safe, effective, convenient and affordable" services to all citizens
The People's Republic has made remarkable achievements in improving its health care sector since 1949, especially in disease prevention, control and treatment, Chinese Health Minister Chen Zhu said at a press conference on September 8.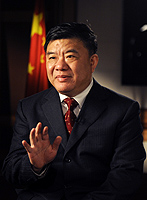 Health Minister Chen Zhu
"The major health indicators of Chinese citizens have leaped into the front ranks of the developing world," Chen said.
The average life expectancy of Chinese people has marched continuously upward from 35 years old before 1949 to 73 today, Chen said. Mortality rates among infants, pregnant women and women giving birth have dropped remarkably, as has the incidence of various contagious diseases.
He also said the national maternal mortality rate dropped from 1,500 deaths out of 100,000 at the beginning of the New China to 34.2 out of 100,000 in 2008. The infant mortality rate decreased from an initial 200 per thousand to 14.9 per thousand in 2008.
"Since the founding of the New China, a health care system covering both urban and rural areas has been initiated and now covers our growing population," he said.
In 1949, China had only 3,670 medical and health institutions, 84,600 medical beds and 505,000 medical workers. After 60 years of development, the country holds 278,000 medical and health institutions, 4.04 million medical beds and 6.17 million medical workers, among which 938,000 work in rural areas.
The minister said the country has established many large and modern hospitals. In urban areas, community-level medical clinics along with general and specialized hospitals all provide medical services to residents. In rural areas, a medical service network is composed of county, township and village health institutions.
"We have raised our capacity in disease prevention and control, and our R&D for health care is rapidly advancing," he said.
China is improving its facilities and revamping the way the health system works, mainly through the medical security system, he said.
In the 1990s, China began to reform its medical security system, making vigorous yet cautious efforts to improve it. In October 2002, the Central Government set up a new rural cooperative medical system, which now covers about 850 million people. By the end of 2008, the basic medical insurance system in urban areas covered 318 million people.
The rural system "has played a prominent role in alleviating the economic burden of rural residents. An increasing number of farmers are enjoying the benefits," Chen said.
At the start of the policy of reform and opening up, Chinese authorities promulgated 11 laws and 37 administrative regulations concerning health care, including the Law on the Prevention and Treatment of Infectious Diseases, the Food Safety Law, the Law on Maternal and Infant Health Care, the Regulation on Management of Medical Institutions and the Regulations on Public Health Emergency.
"The development of the legal framework for the health care system provided solid security for public health and also laid an important foundation for Chinese social and economic development," the minister said.
But there are still many problems in the present health care system that demands more reform.
In April, the Central Government unveiled the Guidelines on Deepening the Reform of the Health Care System, which kicked off a much-anticipated program to ensure fair and affordable health services for China's 1.3 billion citizens.
More than 850 billion yuan ($124 billion) will be spent by 2011 to provide universal medical services to all residents, Chen said.
The guidelines identified public hospitals as the dominant providers of health services, and gave priority to the development of local hospitals and clinics in cities and rural areas.
The medicine supply system will be streamlined so that public hospitals and clinics are supplied with essential drugs at prices regulated by the government.
Authorities have pledged to build 2,000 county hospitals and 5,000 township clinics in rural areas by 2011, extending medical services and making them more affordable.
By 2020, the world's most populous country will have a basic health care system that can provide "safe, effective, convenient and affordable" services to urban and rural residents, he said.