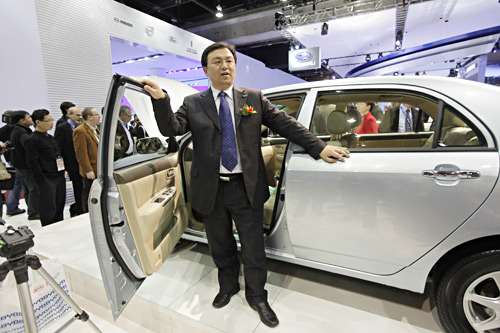 THE RICHEST: Wang Chuanfu, Chairman and President of BYD, poses next to BYD EV E6 at the North American International Auto Show held January 12, 2009 in Detroit (CFP) 
The Hurun Rich List of China's wealthiest people includes entrepreneurs, business leaders and tycoons of various sorts. During the first months of 2009, one would be hard pressed to find Wang Chuanfu, founder and chairman of Chinese battery, car and electric vehicle maker BYD Co. Ltd., on the list of names, ranking just below the top 100 spot on the list. But now, Wang's numerical position is easily located—right at the top.
With a total wealth of 35 billion yuan ($5.15 billion), 43-year-old Wang jumped from 103rd last year to this year's richest. In 2008, U.S. billionaire Warren Buffett bought 225 million shares of BYD, at HK$8 ($1.03) apiece, totaling HK$1.8 billion ($23.2 million) through his investment flagship Berkshire Hathaway Incorporated.
On October 19, BYD share prices stood at a record high of HK$83 ($10.7) in Hong Kong stock market, almost 10 times greater than one year ago. The Berkshire investment in BYD brought huge profits to the American financial tycoon.
"MidAmerican is pleased to make an investment in BYD, a high-calibre organization, committed to achieving dramatic environmental effects with their products," said David Sokol, Chairman of MidAmerican, a subsidiary of Buffett's Berkshire Hathaway Incorporated. "As worldwide discussions relating to climate change and respecting the environment continue, the technologies being developed by BYD will be an integral part of the future."
With environmental harmony a contentious topic of discussion, the success of Wang and BYD demonstrated an eagerness to move in the green direction.
BYD is not the only company to experience a surge in profits and interests, as many sectors related to the electric vehicle (EV) industry, from nonferrous metal mining, battery production and whole-car manufacturing, have become investment hotspot this year, said Tianxiang Investment Consulting Co. Ltd.
Set his sights high
Before opening his Shenzhen-based rechargeable battery company BYD in 1995, Wang was a researcher of nonferrous metal at a Beijing academy. Drawing on his strong technological background and China's low labor costs, the company has grown into the world's second largest maker of high-end rechargeable batteries used in cell phones. BYD has won recognition among the world's prominent cell phone manufacturers, including Nokia and Motorola.
But Wang did not limit himself to the battery industry. "My battery business has reached its ceiling. It will be hard to maintain an annual growth rate of 50 percent in the future," said Wang.
In 2003, he acquired 77 percent of Qinchuan Auto's share ownership with 270 million yuan ($39.7 million). Against all odds, he marched forward on his path to creating a car kingdom, building extensions to the auto production base in Xi'an, establishing a R&D center in Shanghai, an auto model center in Beijing and a marketing headquarter in Shenzhen, Guangdong Province.
"My dream is to produce affordable cars for Chinese families," he said.
Since its economy car model, the F3, rolled off the production line in 2005, it has realized total sales of more than 200,000 units. This September, BYD sold 44,070 cars, an increase of 88 percent month on month, with the F3 accounting for 27,350 of the units sold. From 2005 to 2008, BYD Auto has scored an average annual growth rate of more than 100 percent.
The rapid growth of China's auto market is one of the contributing factors to Wang's ascent to the top of the rich list, said Rupert Hoogewerf, the Hurun Rich List compiler, to Beijing Review.
According to the China Association of Automobile Manufacturers, production of automobiles reached 88.8 million in 2007 from 32.3 million in 2002, an average annual growth of 21 percent. This year, China is expected to achieve an auto sales growth of 35 percent year on year.
While putting one foot in the auto industry, Wang developed a clear plan to combine his battery production company with automobile manufacturing, particularly in the development of EV. As early as 2003, BYD launched its EV project in Xi'an, capital of west China's Shaanxi Province.
"BYD is the only car producer with a strong background of battery making in the world and our EV will form its own core technology by integrating advanced battery technology with auto technology," said Xu An, Director of Public Relations Department at BYD Auto Sales Company.