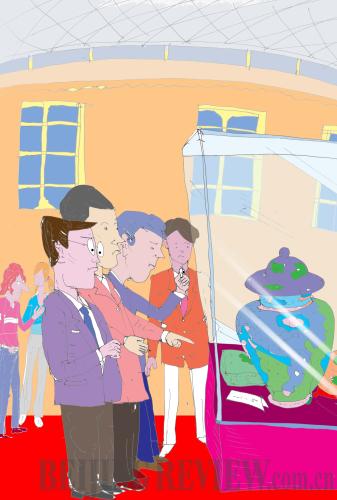 (LI SHIGONG)
The loss of China's cultural relics is a serious problem and also a historical issue. The Chinese Government and its people have always focused on recovering valuable works lost overseas. However, tracing and reclaiming cultural relics often comes down to the laws and regulations of the country where they are located and also international regulations. The process is complicated. As to whether it's possible to get them back, there is controversy in China: Some people firmly support the tracking down of objects to which there is attached national emotion; while for some reason it's very hard to reclaim many stolen cultural relics.
October 18 of this year marks the 150th anniversary of the destruction of the Old Summer Palace (the Yuanmingyuan Garden) in Beijing. In 1860, allied Anglo-French forces captured the city and looted the Old Summer Palace, a royal garden in the western suburbs of the city. Then they torched it. Since then, a huge amount of cultural relics previously displayed in the royal park has been scattered all over the world. To the present day, only a small fraction of the stolen cultural relics have been brought back to China—by Chinese who have acquired them at auctions. At the end of 2009 the management institution of the Old Summer Palace launched an overseas campaign to discover the lost treasures. Special delegations have been sent to Europe and America for a basic appraisal of the situation.
Chen Chun, a professor of Cultural Heritage and Museum Studies at Fudan University, is interviewed by Shanghai-based Jiefang Daily and expressed his views on this round of the investigation and ways for China to bring back its cultural relics.
What is the significance of tracking down the Old Summer Palace's treasures overseas?
Chen Chun: This campaign is a part of a civilian commemorative activity for the 150th anniversary of the Old Summer Palace's destruction. It was instituted by the former royal garden's management institution, instead of a decision of the country's archeological circles.
Since the mid-1800s, China's cultural relics have frequently had incursions made upon them and have been illegally exported, so the nation has lost quite a lot of them. In terms of the significance or value of the lost relics, some are even more historically, scientifically and artistically important than the cultural relics looted from the Old Summer Palace. In my opinion, while paying attention to the tracking down of stolen cultural relics, we should also try to prevent further loss of cultural relics, as many of them are no less valuable than the cultural relics stolen from the Old Summer Palace.
For years, the recovery of looted cultural relics from the Old Summer Palace has always been a focus of attention. What do you think about this?
Up until now, the mere mention of the looted cultural relics from the Old Summer Palace has rekindled the terrible memory of the time in history when the Chinese nation was humiliated. With the rise of China's economic strength in recent years, some people have tried to buy back illegally exported Chinese cultural relics in the auction market despite high asking prices.
But, based on auctions of stolen Chinese cultural relics in the past, the biggest beneficiaries of the purchases are traffickers, speculative collectors and overseas auction houses. The strong clamor for the recovery of stolen cultural relics might push up prices. As a result, these cultural relics will not only be hoarded as rare commodities for the international market but also stir up more smuggling and illegal digging for and unearthing of cultural relics.
Therefore, when it comes to "historical issues" including looted cultural relics from the Old Summer Palace, we should maintain an active and sensible attitude. We should protest and denounce the trade in stolen cultural relics. More importantly, we should try to reclaim lost treasures through diplomatic and legal channels by collecting detailed evidence as early as possible and according to international conventions.
The recovery of stolen cultural relics is now a big problem all over the world. Countries such as China, Egypt and Iraq, which enjoy long history and great civilization, have tried in many ways to get back stolen cultural relics in vain, and the prospect of getting them back seems dim. Many countries are now at the stage of debating with the thieving owners about whether to return cultural relics or not. What are the obstacles in efforts to break this deadlock?
There are two major challenges in reclaiming stolen cultural relics. One is that original owners do not have ways of finding out and confirming the processes whereby they were unearthed and how many hands they have passed through, especially those lost during wartime and also those sold to foreigners before original owners set up laws forbidding trading in cultural relics. The other challenge in the process of reclaiming stolen cultural relics is original owners not only need sufficient determination and energy to pursue all the avenues of enquiry, but they must have sufficient capital to pay for the cost of expensive litigation.
In recent years, because of strengthened cooperation and negotiation between the Chinese Government and other countries and between relevant Chinese institutions and their foreign counterparts, China has managed several times to reclaim stolen cultural relics in accordance with international conventions, international practice and through judicial channels.
We badly need to establish an international tracking mechanism. Apart from actively participating in international conventions and in extensive cooperation with organizations such as the UN Educational, Scientific and Cultural Organization, the International Council of Museums, the International Criminal Police Organization and the World Customs Organization, as well as large museums and big auction houses, we should develop more channels to reclaim cultural relics overseas. For example, relevant institutions should further strengthen connections with embassies of other countries, to inform them of robberies and newly found stolen cultural relics in a timely way. If necessary, talks may be held so as to better coordinate investigations and settlement of criminal cases. But it is really difficult to recover those relics held by private collectors.
In the past, many international treaties on cultural relics have been drafted by Western countries but some treaties have tended to protect present owners of stolen cultural relics. How should we cope with this situation?
The nature of how to deal with stolen cultural relics housed in overseas museums is actually how to deal with "cultural internationalism." The international heritage concept advocates cultural relics belong to the whole of mankind and therefore all legally owned cultural relics should be available to the whole of mankind to the greatest extent. Of course, this kind of thinking used to help imperialists rob other nations and countries of their cultural relics.
Despite this, if the lost cultural relics, whose possession by other countries has now been legalized, are under high-level preservation orders and displayed well, the significance of their current situation can't be denied. As far as I know, for example, Chinese cultural relics displays in Toronto's Royal Ontario Museum of Canada have now become a window for overseas Chinese to remind their children of their motherland and for foreign friends to learn more about Chinese history and culture.
Furthermore, for us, to reclaim stolen cultural relics is important, but the more urgent task is how to protect well, manage and exhibit the cultural relics we ourselves hold. We have unearthed many cultural relics in past years, but most of them are lying in dusty warehouses. We should also pay attention to these cultural relics, so that their value can be fully tapped.
A Faraway Fortune
According to UNESCO's incomplete statistics, there are no less than 1 million items of Chinese antiquity housed in more than 200 overseas museums in 47 countries, while the number of those in the hands of private collectors overseas could be 10 times greater.
China began to lose large quantities of antiques and treasures from the Opium War in 1840, mainly through pillage, but also as "archaeological findings" brought back to Europe by explorers, and through illegal trafficking between Chinese warlords and overseas antiquaries.
China has reclaimed part of its treasures lost overseas through legal and diplomatic means by government, purchases at overseas auctions by museums, and donations by overseas Chinese or foreign friends.
Up to June 25, 2009, China had signed bilateral agreements with Peru, India, Italy, the Philippines, Greece, Chile, Cyprus, Venezuela, the United States and Turkey on the prevention of theft, illegal excavation and illegal trafficking of cultural properties.
Shan Jixiang, Director of the State Administration of Cultural Heritage, avers purchase overseas of relics and antiquities from illegal excavations is not "patriotism," but connivance over illicit excavation and trafficking.
(Source: The State Administration of Cultural Heritage)