A National "Health" Policy for the Young
(Yang Hua, President of Beijing Sport University)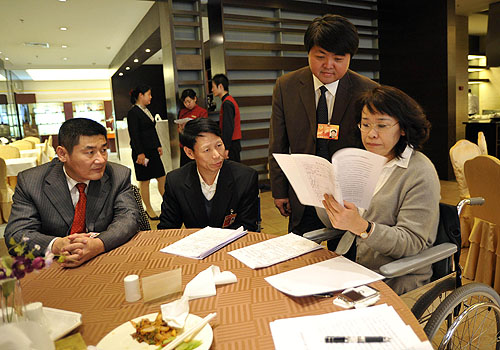 JOINT EFFORT: Zhang Haidi (right), a CPPCC member and Chairwoman of the China Disabled Persons' Federation, talks to other members about making a joint proposal on March 6 (WU HAISEN)
The government should make it a national policy to improve the health of China's children and youth. In recent years, their health has been deteriorating; if measures are not taken soon to arrest the trend, the children will become a new generation of "sick men of Asia." The government should increase expenditures on physical education and there should be mandatory monitoring of the children's physical exercises.
Warning on Poorly-Preserved Intangible Heritage
(Feng Jicai, Chairman of the China Society for the Study of Folk Literature and Art)
A warning and removal system for intangible cultural heritage inscribed in the lists of the national and local governments should be set up. Relevant government departments should establish expert groups to supervise and monitor the inscribed heritage. A warning should be issued for poorly preserved or overly exploited heritage. Those seriously damaged, changed in nature or no longer transmitted should be removed from the list.
Invigorating Silver Age Industry
(He Wei, a member of the 11th CPPCC National Committee)
Private investment in silver age industry should be encouraged. With more enterprises competing, most of the needs of seniors could be met via the market.
The old-age insurance system should be improved, to make sure that seniors, especially rural seniors, receive adequate financial support—which would ease seniors' worries and improve their purchasing power.
Enterprises making products for seniors should carry out careful research; obtain a clear idea of the size and structure of the senior population, as well as seniors' income levels, special needs and consumption psychology and patterns. With improved foresight, they could better tailor products to seniors' needs.
The proposal also suggested boosting services to seniors, especially in the care area.
Less Bureaucracy, Less Corruption in Universities
(The Central Committee of the Jiu San Society)
University teachers and their academic research should be respected, and the administrative units of a university should provide service to academic units. The administrative rank of universities should be removed, and the way university presidents are selected should be changed. University leaders should not only be accountable to supervisory government departments, but also to teachers and students. Universities should be managed democratically; teachers' performance evaluation system should be reformed so corruption can be wiped out and teachers can fully devote themselves to teaching and research.
Regulations on faculty and staff representative meetings and academic committees should be enacted, to give more power to faculty and staff representatives and the academic committee. Faculty and staff representative meetings should be held regularly and important decisions related to schools must be approved at meetings before being put into practice.
Universities should release basic information and relevant reports, and accept the supervision of teachers, students and society.
Waste Disposal in Beijing
(Beijing Committee, China National Democratic Construction Association)
The proposal focused on waste sorting, collection and scientific treatment. It said burning or burying solid waste was an inefficient way to treat waste, while the scientific way was to sort waste, and send recyclable items to factories to be reused, non-recyclable organic items to treatment facilities to produce methane or fertilizers, and non-recyclable inorganic items to trash incinerators. The ultimate goal of waste disposal was to reuse as much waste as possible.