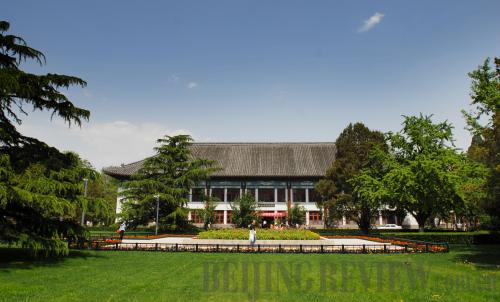 NATIONAL LEADER IN EDUCATION: The photo shows a building of the School of Foreign Languages at Peking University on May 4, 2008, when the prestigious university celebrated its 110th founding anniversary (CFP)
Recent news has made the Chinese public concerned that the country's ambition to build universities that compete with the finest in the world could take longer to materialize than expected. On May 4, 1998, at the 100th founding anniversary of Peking University, then Chinese President Jiang Zemin announced "China will build several world-class universities to meet the demands of the country's modernization drive."
China is not represented in the list of the top 10 universities in the latest rankings of Asian schools. In the 2010 rankings, compiled by London-based Quacquarelli Symonds (QS) Network and released in early May, the highest-ranking institutions from the Chinese mainland were Peking University at No.12 and Tsinghua University at No. 16, clearly out-performed by their counterparts in China's Hong Kong, Japan, Singapore and South Korea.
Giving a lecture at Huazhong University of Science and Technology on April 12, Xu Zhihong, former President of Peking University, said that Chinese universities still lag far behind world-class universities, with the most evident gaps in teaching technique rather than campus facilities.
Xu said a world-class university must meet three conditions: attracting scholars and scientists who are global leaders in their fields; producing academic results that profoundly contribute to social progress and economic growth; providing outstanding professional education for those who will emerge as leaders in all walks of life.
"Achieving the goal of building world-class universities in China could take longer than two generations' time," said Xu.
According to Yangzi Evening News, at an interview at the Fourth Chinese-Foreign University Presidents Forum in Nanjing, east China's Jiangsu Province, in early May, Richard Levin, President of Yale University, said that the multidisciplinary breadth and cultivation of critical thinking are the two key elements that have been missing in China's higher education. He was critical of the extremely specialized higher education in Asia, where students pick a discipline or a profession at 18 and study little else. He also critiqued the traditional Asian pedagogy, which focuses on the mastery of content, not on the development of the capacity for independent and critical thinking.
Quantity versus quality
In a dramatic move to expand access to higher education, China launched a program to boost university enrollment in 1999. Since then, the number of students enrolled in college has sextupled, rising from 1.08 million students in 1998 to 6.57 million students in 2010, official statistics show. Between 1998 and 2008, China more than doubled the number of its higher education institutions from 1,022 to 2,263.
As a result of the unprecedented initiative to popularize higher education, China's gross enrollment rate rose from 9.1 percent in 1997 to 24.2 percent in 2009.
According to the Medium- and Long-term National Educational Reform and Development Plan adopted by the Central Government on May 6, the ratio will be further boosted to 40 percent by 2020.
In 2008, China surpassed the United States as the world's top producer of Ph.D. holders. While it had taken China less than a decade to build the largest higher education sector in the world in terms of students' enrollment, the country's more ambitious agenda of elevating its best universities to international standards of excellence has proved much more challenging.
According to the 2009 rankings of world universities by QS, China's best-graded institution, Tsinghua University, ranked an inconspicuous 49th.
The rapid growth of higher learning institutions has fueled public concerns that enrollments have exhausted the capacity of faculty to maintain quality in some colleges. Attending an academic forum in July 2007, then Minister of Education Zhou Ji admitted that the enrollment expansion program had given rise to various problems, including low-quality education in some colleges.
"As a parent myself, I can understand all people's concerns and criticisms," said Zhou. He promised to slow down the expansion speed and requested universities to consider quality education to be their top priority.
A predictive report on China's social and economic development, released by the Chinese Academy of Social Sciences (CASS) at the end of 2008, pointed out that the explosive growth of fresh college graduates and the decrease of job vacancies in China's public sector have dampened graduates' chances of employment. According to the Ministry of Education, by September 1, 2009, more than a quarter of new college graduates in 2009 hadn't found a job and there was significant shrinkage in the new graduates' starting salaries compared with the previous year.