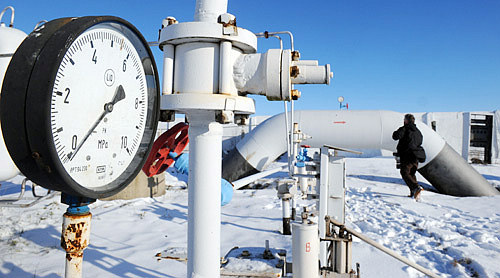 ZERO PRESSURE: A man passes a gas-compressor station in Boyarka, near Kiev, on January 1, 2009, the day Russia halted its natural gas supply to Ukraine. The gas dispute was not resolved until 18 days later when Russia and Ukraine signed a 10-year contract for 2009-19 (XINHUA/AFP)

Ukrainian President Viktor Yanukovych started to change his predecessor Viktor Yushchenko's pro-West policy after he won the country's presidential election in February. Within six months, this new policy has resulted in an upgrade in the Ukraine-Russia relationship.
There were three issues marking the changes: Russia and Ukraine's agreement on natural gas supply, Russia's continued rental of the Black Sea port of Sevastopol and the Ukrainian parliament's decision to not join NATO.
Changes under pressure
During the Yushchenko era, Russia's strategy was to exert both economic and military pressure on Ukraine. The lease of the Sevastopol port and the possibility of Ukraine joining NATO were the main concerns between the two countries.
After vying for control of the Black Sea Fleet for a long time, Ukraine received 30 percent of the fleet, while Russia controlled the remaining 70 percent, which was stationed at Ukraine's Sevastopol. According to an agreement signed in May 1997, Russia's Black Sea Fleet could use the port until 2017. The Yushchenko government, hoping to increase the chances of joining NATO, said the Russian fleet must leave Ukraine by that time.
Russia has always shown opposition to Ukraine joining NATO. Yuri Baluyevsky, then Chief of the General Staff of the Russian Armed Forces, warned in Moscow in April 2008, that if Ukraine and Georgia joined NATO, Russia would take actions to protect its security interests. During a meeting with Yushchenko in June 2008, Russian President Dmitry Medvedev stated that if it joined NATO, Ukraine would breach their bilateral friendship treaty signed in 1997. Medvedev warned that Ukraine should not rush to drive the Russian fleet out of Sevastopol.
In the economic arena, a political conflict arose regarding natural gas and the countries' differing strategic interests. Before Yushchenko came to power, Russia sold natural gas to Ukraine at a price of $95 per 1,000 cubic meters.
After Ukraine's Orange Revolution from late November 2004 to January 2005, Russia tried to press Ukraine, which was in tough economic times and owed a huge natural gas debt to Russia, to change its pro-West policy. It told Ukraine it would raise the natural gas price to $230 per 1,000 cubic meters, the same price it offered to Western countries, as of early 2006. When negotiations did not reach a consensus, Russia shut down natural gas supply to Ukraine entirely.
Russia's energy policy shocked the West. A quarter of EU members' natural gas demands are fulfilled by Russia, and 80 percent of Russia's natural gas supply to the EU goes through Ukraine. Therefore, all of Europe closely watched the fight over natural gas prices and debt repayment.
Two months after Yanukovych became Ukraine's prime minister in August 2006, the two sides came to an agreement: Starting in 2007, Russia would supply Ukraine with natural gas at a price of $130 per 1,000 cubic meters.
When Yanukovych left his post as prime minister, though, natural gas prices once again became a point of contention. December 31, 2008 talks over natural gas prices and transit fees in 2009 were in vain, and Russia completely cut off natural gas supply to Ukraine the next day.