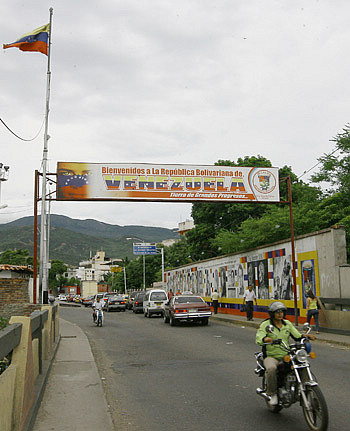 CROSS-BORDER BRIDGE: Pedestrians and vehicles cross the Simon Bolivar Bridge, which connects Venezuela with Colombia, on August 3 (XINHUA)

The diplomatic dispute between Colombia and Venezuela ended when the presidents of the two nations met in Santa Marta, Colombia, on August 10.
At the meeting, held just three days after Colombian President Juan Manuel Santos, took office, both Santos and his Venezuelan counterpart Hugo Chavez agreed to restore diplomatic relations. Venezuela had severed ties with its neighbor on July 22 after Colombia accused it of harboring rebels.
Chronic conflicts
On July 15, then Colombian Defense Minister Gabriel Silva said his country had evidence showing the meeting of Colombian rebel leaders in Venezuela.
One week later, Colombia's representative to the Organization of American States accused Venezuela of harboring as many as 1,500 members of the Revolutionary Armed Forces of Colombia (FARC) and the National Liberation Army (ELN), two of Colombia's predominant rebel groups. He requested the establishment of an international investigation team to determine what the relationship between these rebels and Venezuela was.
On the same day, as a response to this charge, Chavez publicly cut ties with Colombia.
Diplomatic disputes between the two countries have been frequent in recent years. For instance, in December 2004, when Colombian policemen entered Venezuelan territory to collect intelligence on Colombian anti-government forces, Venezuela recalled its ambassador to Colombia and halted bilateral economic and trade relations.
Venezuela even ceased natural gas and oil pipeline projects between the two countries. It shut off the supply of electricity and gasoline to the Colombian border area, and closed the border. These punitive measures greatly affected the lives of Colombian residents.
In April 2006, when Colombia and other countries decided to start negotiations on a free trade agreement with the United States, Venezuela withdrew from the Andean Community.
On March 1, 2008, Colombian government forces launched a combined air and ground assault, crossing its border with Ecuador and killing the FARC's second-in-command and 16 armed rebels.
The next day, Chavez made a call to Ecuadorian President Rafael Correa, saying Venezuela would unconditionally support any Ecuadorian action against Colombia.
On March 3, 2008, Chavez announced Venezuela would immediately sever its ties with Colombia. Six days later, the two countries restored diplomatic relations, but only after Colombia's then president Alvaro Uribe offered a face-to-face apology to Correa.
Long-existing hatred
The FARC and the ELN emerged in the 1960s and, through the revenues of illegal drug trade, the two rebel groups have established many bases across the country. They have been engaged in various terrorist activities including robberies, kidnappings, assassinations and bombings.
The Colombian Government has adopted various measures to deal with them, including suppressing, negotiating and seeking U.S. assistance. So far, though, the groups still control many areas and have become the biggest obstacle to Colombia's social stability. They not only threaten the security of ordinary residents, but often assassinate presidential candidates, prosecutors and judges.
The father of former Colombian President Alvaro Uribe was kidnapped and killed by the FARC in 1983. When Uribe became president, he vowed to fight it out with anti-government armed forces and to avenge his father.
Uribe's hard-line measures proved effective. During his eight-year administration, many rebel leaders were captured or killed. Areas occupied by rebels continually shrunk and Colombia's security improved.