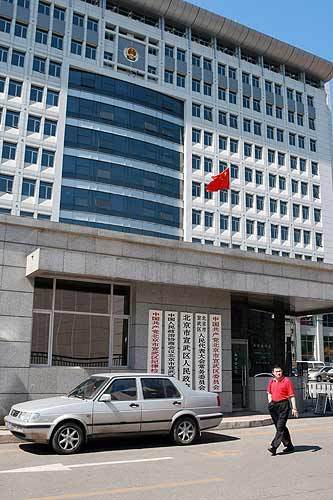 TWO BECOME ONE: In the photo is the government building of Xuanwu District before it was merged with New Xicheng District. Xuanwu and Chongwen are the two smallest districts among Beijing's 18 districts and counties in terms of area and population (JIANG XIAOYING)
The maps of many Chinese urban centers will need to be redrawn—a wave of district readjustments is sweeping the country, merging administrative areas and expanding special economic zones.
As of July 1, 2010, Beijing's Chongwen and Dongcheng districts were merged into New Dongcheng District, while Xicheng and Xuanwu districts became New Xicheng District.
The day Beijing announced its administrative district readjustment, Shenzhen, the forefront city of Chinese reform and opening up, also announced that the Shenzhen Special Economic Zone would be expanded to incorporate Baoan and Longgang districts into the special economic zone.
Over the past year, a number of Chinese cities, including Shanghai, Tianjin, Chongqing, Xiamen and Shenyang, have made readjustments to their administrative divisions. Other large and medium-sized cities are also formulating readjustments to administrative divisions.
Reasons
Most of the cities claim the readjustments are mainly for economic development. Concerning accelerated urbanization, the old administrative divisions seem unsuitable.
"When the economy develops to a certain extent, the boundaries of traditional administrative divisions will be broken up and, hence, changes in those divisions will be inevitable," said Du Liqun, Deputy Director of the Beijing Institute of City Planning and Design.
Most administrative divisions in Chinese cities were set up before the late 1970s. Since the introduction of the reform and opening-up policy more than 30 years ago, China has witnessed rapid economic growth and an accelerated urbanization process. Particularly in recent years, the reform of the household registration system and the opening of the doors of cities to rural migrant workers have helped expand both the urban population and the scale of cities dramatically.
About two thirds of migrant workers go to big cities such as Beijing, Shanghai and Shenzhen. And as the urban population grows and urban areas expand, the old structure of administrative divisions may inevitably impede the urban economy's further development.