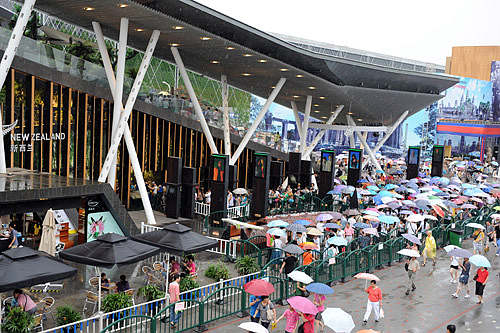 UNDAMPENED ENTHUSIASM: People queue up in front of the New Zealand Pavilion during heavy rain on July 16 (LI BAISHUN)
Internationally famous performing troupes, including the Philadelphia Orchestra, National Ballet of Spain, Czech National Theater Ballet Ensemble and Royal Theater of Turin, have performed at the Expo site. Performing troupes from more than 30 countries participating in the Expo also performed in venues off site.
Efforts to ensure the successes of events started as early as the construction of the Expo site. Shanghai-based Oriental Morning Post reported that organizers had put power facilities for all the 32 venues under high temperature tests during construction so that they would function all-weather well.
One important service is the comfort of visitors waiting in long queues in front of popular pavilions. Hong Hao, Director of the Bureau of Shanghai World Expo Coordination, said at a press conference on July 31 that his bureau had taken many measures over the past three months to reduce the woes of the scorching weather on visitors.
First is to install sunshades totaling more than 25,000 square meters and more than 2,000 umbrellas. The total artificially sheltered area at the Expo site has reached more than 200,000 square meters.
Second is to build cooling facilities, such as electric fans, mist sprayers, mist blowers and evaporative air coolers, at the site. Every day, more than 100 boxes with huge ice cubes are put in the queuing areas in front of popular pavilions, such as the Saudi Arabia Pavilion, the Japan Pavilion and the Germany Pavilion, to cool people down. "It has been tested that temperatures under these queuing sunshades are up to 10 degrees lower than that outside these sunshades," Hong said.
Third is to increase the number of seats at the Expo site from the original 40,000 to 110,000.
Fourth is to distribute paper fans to visitors at entrances to the site and increase the number of drinks stalls and vending carts.
Fifth is to ensure paramedic teams and clinics stationed at the Expo site stock enough sunstroke medication.
Sixth is to strengthen the maintenance checks on air conditioning in the pavilions and ensure that minor problems can be fixed within 24 hours.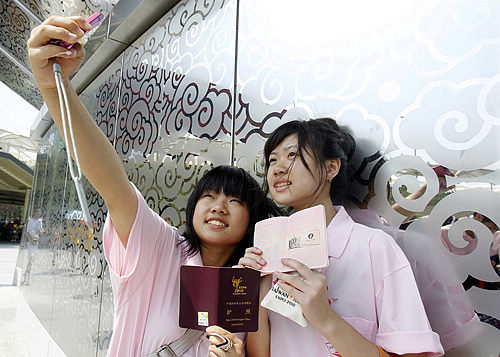 EXPO MOMENT: Two middle school students take a photo of themselves holding World Expo passports at the Expo site in Shanghai on July 21
Other services the organizers recently provided include distributing number cards to visitors waiting in a line when they need to leave briefly to use the washroom or drink water and installing garbage bins on the iron railings that separate visitors in queues to keep the waiting area ground cleaner.
On August 6, the reservation voucher for a visit to the China Pavilion changed from a paper version to a recyclable electronic card with an embedded chip. The new version is also distributed for free at Expo site entrances early in the morning and will be collected at the entrance of the China Pavilion. Hong explained this is in response to the knock-off paper tickets that were running rampant and became increasingly unrecognizable.
No slacking
"Comments from visitors have become more and more positive. As organizers, we are pleased with what we have achieved, but we know the remaining three months are still full of challenges," said Hong.