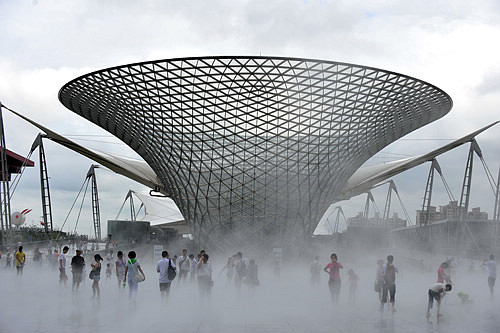 COOL MIST: Tourists enjoy a break from the sweltering weather after a drizzle at the Celebration Square at the Expo site in Shanghai on July 27
A daily review meeting is an important mechanism for the Bureau of Shanghai World Expo Coordination to guarantee that daily improvement of service quality.
As Shanghai is still in the middle of its typhoon season, storms remain a major threat to the smooth operation of the Expo. With four independent rainwater drainage systems, pipelines totaling 81 km and a total designed drainage capacity of 60 cubic meters per second, the Expo site has taken possible flood emergencies into consideration during its construction stage. The dike separating the Expo site from the Huangpu River is designed to withstand the most extreme pressure from tides.
Before the site opened to visitors, the organizers had held an evacuation drill in case of a typhoon, downpour and surge tides at the same time to find loopholes of the existing emergency plans. The flood emergency plans use the resources within the Expo site, including well-trained workers and vehicles, as well as resources in other places in Shanghai. Five buildings, the Expo Axis, the China Pavilion, the Theme Pavilion, the Expo Center, and the Expo Performance Center, are designed to withstand hurricanes.
Despite the preparation, Hong said, storms can pose a challenge as the Expo site is built on both banks of the Huangpu River. On July 31, Hong and his colleagues conducted checks on facilities of foreign pavilions because some pavilions exhibited problems during a recent storm.
Hong said another vital mission for the organizers is to divert more visitors into the night tours. Due to the measures of extending the sale time for night tickets and offering better discounts on night tickets to tour agencies, night visitors have increased. Hong said new measures to be taken include increasing performances in the evening, reserving tickets to popular shows for night tickets holders and negotiating with exhibitors not to close ahead of schedule.
Expo in Figures
Nearly 38 million visitors, about 95 percent of whom are Chinese and nearly 80 percent are non-Shanghainese, came to the Expo site.
Shuttle buses at the Expo site transported visitors on nearly 100 million trips, as the buses depart every 14 seconds.
Around 15 million visitors watched a total of 11,700 performances at the 32 venues for events. This equaled nearly 120 performances per day on average.
Around 80 countries and seven international organizations celebrated their national pavilion days and honor days. Moreover, about 20 cities held promotion events at the 5.28-square-km Expo site.
(Source: Xinhua News Agency)