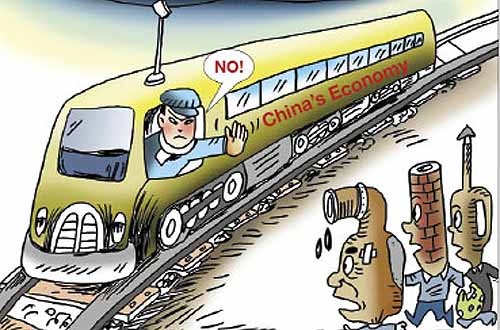 (XINHUA)
The Ministry of Industry and Information Technology (MIIT) ordered the closure of outdated production lines in 18 industries as part of the country's plan to upgrade its industrial structure and move up the value chain.
On its website, MIIT posted a list of 2,087 factories that are operating on outdated lines and said those production lines must be closed by the end of September 2010.
The 18 affected industries are iron, steel, coke, ferroalloy, calcium carbide, electrolytic aluminium, copper smelting, lead smelting, zinc smelting, cement, glass, paper, alcohol, monosodium glutamate, citric acid, tanning, dyeing and chemical fibers.
The most affected provinces are Henan with 230 factory closures, Shanxi, with 226 closures, and Zhejiang, with 180 closures. All of the closures are expected to result in substantial job losses.
More than necessary
On August 3, a few days before the MIIT's issuance, it was announced that energy consumption per unit of GDP in the first six months of this year rose 0.09 percent from one year ago, according to official figures jointly issued by the National Bureau of Statistics, the National Development and Reform Commission and the National Bureau of Energy.
In order to reach the energy consumption reduction target proposed in the 11th Five-Year Plan (2006-10), China must cut energy consumption per unit of GDP by 5.2 percent from 2009 to 2010.
Judging by the disappointing first-half performance, the energy consumption goal may be far-fetched.
China is the world's largest steel producer and a major producer of other industrial materials, as well. New facilities are equipped with the latest technologies, but there are thousands of small, outdated businesses that local authorities are reluctant to close, due to concerns over job losses and tax revenue decreases.
Li Yizhong, Minister of MIIT, said that outdated means of production consume a large amount of energy and resources, create a high level of pollution and have many safety problems. Li stated the closure of the outdated production lines will make more room for advanced production, and said that profit-seeking factories tend to ignore environmental responsibility and prefer to operate older lines unless those lines are entirely dismantled.
Any company that defies the decree will face punishment, the MIIT said on its website. The government will revoke the safety licenses and pollution discharge permits of factories that fail to shut down the identified facilities. Financial institutions and local land resource departments will not be permitted to offer credit of any kind or approve new land for production expansion to such factories. Power companies will also have the right to cut the power supplies to violating businesses.
But those businesses which quickly abolish backward capacities will benefit from favorable policies in terms of financing, investment and land resources.
Most of the blacklisted factories are privately owned, while some belong to listed companies. After the MIIT announcement, involved listed companies made reports on potential impacts. Zhejiang Hangmin Stock Co. Ltd., a printing and dyeing company, said two of its subsidiaries will have to abandon 13-15 percent of their production capacities. The company said it is not just conforming to the government's orders, but is also moving forward with a plan to upgrade its technology and facilities.
The closures are part of China's current economic restructuring efforts. Getting rid of outdated means of production will promote industrial development and improve China's competitiveness in the international market.
China has set an ambitious target of cutting energy consumption per unit of GDP by 20 percent between 2006 and 2010, and has vowed to cut greenhouse gas emissions by 45 percent by 2020. The closures will help reach these goals.