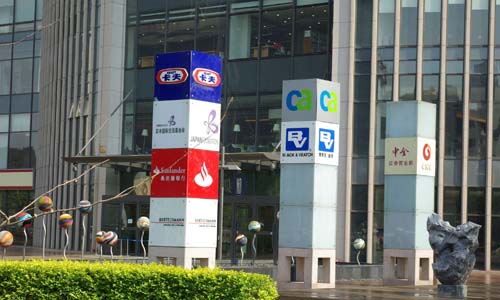 CBD GATHERING: Many foreign-invested companies have set up their headquarters in Beijing's Central Business District (YUAN LIANG)
In line with China's economic development, a policy introduced earlier this year was meant to optimize the structure of and serve as a guideline in utilizing foreign capital and direct such investment to China's central and western regions. Now, a new scheme is demonstrating the Chinese Government's determination and confidence to further improve the investment environment for foreign capital and enhance its policy initiative.
On August 19, the State Council issued a scheme on the division of work when implementing the Opinions of the State Council on Further Facilitating the Utilization of Foreign Capital, which was introduced earlier in April. The scheme assigned 16 government departments including the National Development and Reform Commission (NDRC), Ministry of Commerce (MOFCOM), Ministry of Finance (MOF), China Securities Regulatory Committee (CSRC) and China Banking Regulatory Committee (CBRC) with different tasks when carrying out the policy.
Division of work
According to the scheme, China will amend the Catalogue for the Guidance of Foreign Investment Industries according to the new requirements and economic development demands. It will also expand the fields that can be opened to foreign investment. In the meantime, China is encouraging foreign investments in high-end manufacturing, hi-tech industries, the modern service industry, new energy, energy-conservation and environmentally friendly industries.
The Ministry of Land and Resources will set aside tracts of land to foreign-invested projects that are encouraged by the government.
The NDRC, Ministry of Science and Technology and MOF will support qualified foreign-invested companies to cooperate with domestic enterprises and research institutions in terms of applying for state-sponsored development projects.
The Chinese Government encourages multinational companies to set up regional headquarters, R&D centers, purchasing centers, financial management centers and settlement, cost and profit accounting centers on China's mainland. Relevant work will be handled by MOFCOM, the State Administration of Foreign Exchange (SAFE), CBRC, NDRC, MOF, and State Administration for Industry and Commerce.
Devices and machines that are needed for scientific research for qualified foreign-invested R&D centers will be exempt from import, value-added and consumption taxes before December 31, 2010. The MOF, MOFCOM, General Administration of Customs, State Administration of Taxation (SAT) will oversee these operations.
China also encourages foreign companies to develop labor-intensive industries compliant with environmental protection requirements in central and western regions. Qualified foreign companies investing in the western region will continue to enjoy favorable corporate income tax. China is also encouraging and guiding foreign banks to set up offices and start operations in the central and western regions. The MOF, NDRC, MOFCOM, SAT and CBRC will be in charge of this work.
Foreign capital would also be encouraged to participate in revamping and restructuring domestic companies or carrying out mergers and acquisitions by purchasing shares in Chinese companies. Shanghai and Shenzhen-listed companies are now being encouraged to introduce both domestic and overseas strategic investors to their operations. Foreign capital's participation in domestic securities investment and mergers and acquisitions will be further standardized as more foreign investors become involved. The CSRC, MOFCOM, NDRC and Ministry of Industry and Information Technology will supervise these tasks.