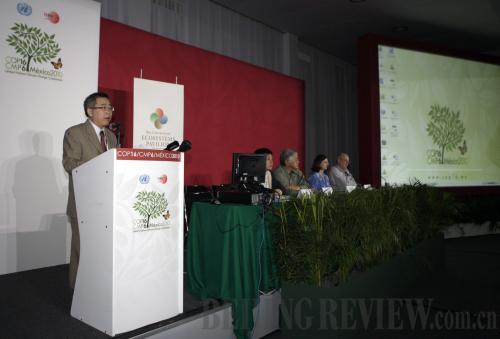 Su Wei (left), deputy director of the Chinese delegation to the summit, briefs China's policy and measures in fighting against climate change at the ongoing United Nations Climate Change Conference in Cancun on December 1 (XINHUA)
Despite a stalemate at the negotiating table, there have been some encouraging developments in the climate change arena.
Emerging economies are moving from rhetoric to solutions and demonstrating effective climate change policies, said a recent report by the non-government organization Greenpeace.
China, for example, has become a green tech leader, introducing several new technologies that use energy more efficiently. China also recognizes the power of technologies that have already been proven; in the 12 days that the Cancun climate summit has lasted, China will have built more than 300 new wind turbines, said the report.
China's 11th Five-Year Plan (2006-2010) on national economic and social development set a target of reducing total pollutant emissions by 10 percent and reducing energy consumption per 10,000 yuan ($1,504) of its GDP by 20 percent.
The country made vigorous efforts to green its economy and reached its goal a month ahead of schedule, said Xie Zhenhua, Deputy Director of the National Development and Reform Commission, said at a conference held in Beijing last Monday and Tuesday.
To achieve that goal, China launched a nationwide campaign to eliminate energy-consuming and polluting facilities in its coal, steel and electric power industries.
Meanwhile, India has continued to pursue its renewable energy strategy through various measures, such as establishing a Renewable Energy Certificate Mechanism and introducing a tax on coal that will fund renewable energy developments.
Brazil has made significant contributions by reducing its deforestation rate to a record low.
The reduction in Amazon deforestation, from over 27,000 square km in 2004 to below 6,500 square km this year, accounts for the largest reduction in emissions made by any country anywhere on the planet.
While the situation in richer countries is not as bright, there is still progress.
EU member states are starting to realize that shifting from their 20 percent emission reduction target to 30 percent is good for their own economies, said the Greenpeace report. The EU aims to reach this target by 2020. Japan, on the other hand, has not lowered their relatively ambitious 25 percent reduction target, according to the report.
(Reporting from Cancun, Mexico)