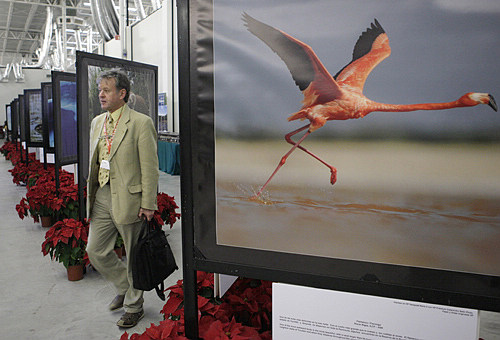 A man walks past a photo exhibition at the ongoing United Nations Framework Convention on Climate Change in the Mexican seaside resort of Cancun on December 1 (XINHUA)
Urban residents are responsible for as much as 80 percent of global greenhouse gas emissions while at the same time facing significant impacts from climate change, said the World Bank in a report released during the ongoing Cancun climate talks.
The report, titled Cities and Climate Change, says that up to 80 percent of the expected $80 to $100 billion annual climate change adaptation costs will likely be borne by urban areas. Nevertheless, climate change offers cities opportunities to alter their course, implement smarter policies and develop sustainable communities, according to the report. Well-managed, dense cities are also shown to be the most important prerequisite for mitigating GHG (greenhouse gas) emissions and creating sustainable development.
"Many world cities, such as New York, Mexico City, Amman, or Sao Paulo are not waiting for a comprehensive and global climate deal to emerge, and they are already acting on climate change," said Andrew Steer, the World Bank Special Envoy for Climate Change.
"They are showing how to address mitigation, adaptation, the delivery of basic urban services, and poverty reduction through smart ideas and local initiatives. They need the support of their national governments and the international community at large," he said.
The report says that the aggregate size of cities is driving their contributions to GHG emissions and also shows how they will be affected by climate change. More than half of the people in the world now live in urban areas, a sizable number that is growing rapidly. The world's 50 largest cities have a combined population (500 million people) that is larger than the United States.
New tools, such as a common GHG emission standard for cities, an Urban Risk Assessment tool and agencies like the Global City Indicator Facility are being launched in an effort to coordinate and focus the energy of cities toward solving climate issues. New financing options such as "green bonds," a city-wide approach to carbon finance (now proposed in Amman) and emissions trading systems such as the one recently launched in Tokyo are also being proposed.
The report says that cities are advised to act on climate change as soon as possible. Costs of delaying action are high, particularly in rapidly growing cities. The co-benefits of immediate action are substantial: improved public health, lower operating costs and energy security, according to the report.
The report adds that low-carbon economies and low-pollution cities are essential to increasing the life quality of urban residents. Cities are also seen as have a unique advantage in confronting climate change since they are at the optimum scale for action; cities are large enough to enact meaningful change and introduce "first responder" programs, yet sufficiently close to the community to be faster and more effective than larger national governments in implementing public aspirations, said the report.
(Reporting from Cancun, Mexico)