BIGGER VOICE: Chinese President Hu Jintao poses with other leaders at the fifth G20 Summit in Seoul, South Korea, on November 12, 2010 (LI XUEREN)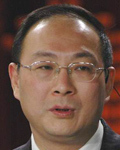 As the international situation continues to undergo complex changes, China is serving as a key force driving these changes. It has, in one way or another, influenced the evolution of global systems, as well as relations between major powers.
Growth
Thanks to three decades of economic growth following reform and opening up, China's national strength has increased greatly. The series of grand events held by China, including the Beijing Olympic Games in 2008, the National Day military parade in 2009, and the World Expo in Shanghai and the Asian Games in Guangzhou in 2010, have highlighted China's growing comprehensive national strength.
In addition, China's ability to handle frequent natural disasters, as well as the global financial crisis, has demonstrated its strong capacity to overcome obstacles.
When data issued by the Japanese Government in August last year showed China's second-quarter GDP surpassed Japan's, China officially became the world's second largest economy. The international community regarded this as a sign of China's rise to "superpower" status.
This big change has had two consequences. First, China's global status has been further enhanced and it has become the focus of world attention. For instance, the World Bank agreed to increase China's voting power from 2.77 percent to 4.42 percent, lifting it to the third spot behind the United States and Japan in the organization. China's share in the IMF also rose to 6.39 percent, up by 2.39 percentage points, making it the third leading voice behind only the United States and Japan. Also, U.S. business magazine Forbes ranked Chinese President Hu Jintao as the "most powerful" person in the world in November last year. China has become a hot topic globally and voices have even emerged claiming that China may "rule the world."
Second, China is increasingly becoming the focus of international conflicts. In 2010, China dealt with a series of diplomatic problems, including the deterioration of its relations with the United States, frequent disputes with neighboring countries and a negative image in world opinion. In a sense, all these are attributable to China's economic rise. How to overcome these troubles will be a severe test of China's strategic capabilities and diplomatic wisdom.
Challenges
Against this backdrop, the international environment China faces is unprecedentedly complex.
First of all, China-U.S. relations deteriorated last year. The two sides butted heads on a series of issues, including human rights, trade, arms sales to Taiwan and climate change.
Tensions were also seen in China's relations with its neighbors. A new spat over the Diaoyu Islands worsened China-Japan relations, which had been relatively stable in recent years. On September 7, 2010, a Chinese trawler collided with Japanese patrol ships in waters off the Diaoyu Islands. Japan returned the fishermen and trawler after China's strong protests, but detained the Chinese captain for 17 days and vowed to handle the case in accordance with domestic law.
Southeast Asian countries frequently played up the South China Sea territorial disputes with China. They even showed a tendency to band together against China.
In addition to these diplomatic tensions, negative opinions of China have emerged in the international community. While calling on China to take on greater "responsibilities," Western media have also begun to claim that China is becoming arrogant. They regarded China's efforts to safeguard national sovereignty as "aggressive."
Trade disputes added to China's difficulties. As the world's biggest exporter and the world's largest holder of foreign exchange reserves, China has naturally become the focus of trade disputes. Of the anti-dumping cases investigated by the WTO, 75 percent were against China.
These new problems in different areas are a result of the interactions between various factors at home and abroad.