BRICK BY BRICK: Indian Prime Minister Manmohan Singh, Russian President Dmitry Medvedev, Chinese President Hu Jintao, Brazilian President Dilma Rousseff and South African President Jacob Zuma at a press conference after their summit in Sanya on April 14 (JU PENG)
Since the global financial crisis brought the world economy to its knees in 2008, developed countries have been plagued with recessions and difficulties restarting their growth engines. On the flipside of this conundrum, emerging economies and developing countries, represented by Brazil, Russia, India, China and South Africa (BRICS), have experienced quick recoveries and renewed economic expansions.
BRICS leaders gathered for the group's third summit on April 14 in Sanya, south China's Hainan Province. The summit released a joint statement, the Sanya Declaration, containing BRICS' future development plan.
Chinese President Hu Jintao, who chaired the meeting, delivered a speech on broadening BRICS' vision and sharing in the prosperity that will accompany their combined growth. Hu stressed the importance of seizing opportunities and addressing challenges facing BRICS nations.
"At this historic juncture," Hu said, "when we usher in the second decade of the 21st century, we all need to reflect on one major topic: bringing about a peaceful and tranquil 21st century in which humanity can enjoy common prosperity."
The Chinese president said the scope of cooperation among BRICS members has expanded and a multi-tiered and wide-ranging cooperation structure has taken shape. He said BRICS cooperation has contributed not only to the economic and social development of the five countries, but also to world peace and development.
"We should stick to the basic principles of solidarity, mutual trust, openness, transparency and common development," said Hu.
The five BRICS countries should join hands to promote common development for all countries, bolster international exchanges and cooperation, and strengthen the BRICS partnership for common development.
Today, Hu said, the biggest imbalance in the world economy is the North-South development gap, between wealthy nations in the Northern Hemisphere and poor and underdeveloped countries in the Southern Hemisphere.
"Without economic development in developing countries, there can be no sustained and stable growth in the world economy," said Hu.
At the Sanya summit, BRICS leaders formulated action plans and discussed new areas of cooperation and new proposals to strengthen BRICS cooperation and benefit their people.
They agreed to enhance existing cooperation programs and hold more meetings involving high-ranking officials. They pledged to further cooperate in areas such as finance, agriculture, statistics, green economy, health care, culture and sports.
BRICS leaders decided to hold think-tank symposiums, and considered establishing a network of research centers involving all BRICS members. They also came to a consensus on discussing ways to promote cooperation in science, technology and innovation in a BRICS format.
A 2011 blue book on emerging economies issued by the Chinese Academy of Social Sciences on April 7 said BRICS countries' total GDP is expected to exceed that of the United States by 2015, and their economic growth will at least account for one third of the world economy's growth by then.
The bluebook predicted BRICS countries would maintain speedy and stable economic growth over the next 15 years, acting as a major economic engine of the world. It also said $1.1 trillion worth of foreign investment would be funneled into emerging economies in 2011, with BRICS countries being the most attractive destinations for investors.
Pingfan Hong, chief of the Global Economic Monitoring Unit of the UN Department of Economic and Social Affairs, told Xinhua News Agency emerging economies represented by BRICS countries have significantly contributed to the world's economic recovery.
BRICS, Hong said, could make more efforts in three major fields to stabilize the global economy: strengthening their own macroeconomic stability; enhancing their ability to resist external risks and promote a global balance; and participating in international policy coordination and global economic governance.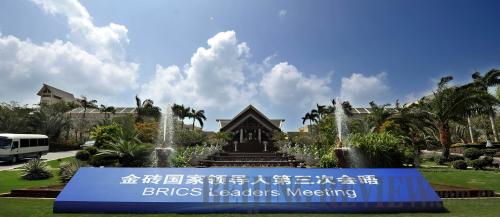 SCENIC SUMMIT: The main venue of the third BRICS Leaders Meeting in Sanya, south China's Hainan Province (GUO CHENG)
Previous Summits
Brazil, Russia, India and China, known as BRIC countries, held two summits before South Africa joined their ranks to form BRICS.
The First BRIC Summit was held in Yekaterinburg, Russia, on June 16, 2009, with a focus on the reform of international financial institutions, food security, energy security, climate change and development assistance.
The Second BRIC Summit was held in Brasilia, Brazil, on April 15, 2010. Leaders addressed issues such as global governance, international economic and financial issues, agriculture, poverty, terrorism and cultural dialogues.
(Source: Xinhua News Agency)