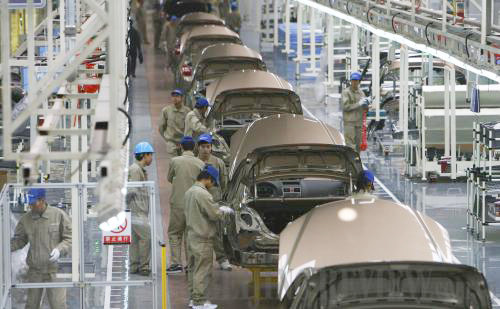 NEW BASE: Workers assemble cars in Geely's new auto plant in Ningbo, Zhejiang Province. Geely is a major private automaker in China (ZHANG PEIJIAN)
China's auto sales in April 2011 dipped 0.25 percent year on year to 1.55 million units, the first negative growth recorded in the world's largest auto market in 27 months, the China Association of Automobile Manufacturers (CAAM) said on May 10. In April, the country's auto output was 1.53 million units, a decrease of 16 percent from the previous month, according to a statement posted on the CAAM's website.
Government withdrawal of incentives on car purchases is mainly to blame for the recently sluggish auto market, said Dong Yang, CAAM Executive Vice Chairman and Secretary General.
No incentive to buy
Thanks to the introduction of a massive stimulus package at the height of the financial crisis to buoy its economy, China's auto sales doubled over the past two years, turning the country into the world's largest auto market. The measures included tax incentives for vehicles with engines of 1.6 liters or smaller and subsidies for farmers who traded in old vehicles for newer, fuel-efficient models.
The cancellation of the preferential policies this year has already had a negative impact on the Chinese auto market, with even popular car model sales dipping into the red.
Tighter registration restrictions in some cities have also taken a toll on the auto market, said Beijing-based auto analyst Jia Xinguang. The Beijing Municipal Government has imposed quotas on new car registrations since the beginning of 2011 to tackle heavy traffic and gridlock issues that have increasingly plagued the city in recent years. These quotas have cut down on auto sales.
According to CAAM, Beijing sold 93,000 cars in the first quarter of this year. The growth rate of Beijing's auto sales in the first quarter dropped by 67.1 percent from a year earlier.
Rising fuel prices have also dampened auto demands in China, said Jia.
"With gasoline prices hitting record highs, and maybe even higher as a result of international events, this will inevitably be a deterrent for potential buyers," Jia said.
The earthquake in Japan may also have had an impact because it has affected the parts supply in China, said Rao Da, Secretary General of the China Passenger Car Association (CPCA). Rao predicts another negative growth rate for the market in May.
Foggy road ahead
Dong voiced concerns over the growth of the nation's auto industry.
"With this decline, it will be hard for China to achieve its 10-percent-growth target in auto sales this year," he said.
With auto sales tapering off, the profit growth rate of key auto producers also witnessed an obvious decline. CAAM statistics show the country's 17 key auto producers realized a business income and total profit of 580.1 billion yuan ($89.2 billion) and 53 billion yuan ($8.2 billion), respectively, in the first quarter of this year, 14.98 percent and 8.66 percent higher than last year, but 2.28 percentage points and 7.83 percentage points lower than the first two months of 2011.
Surging production costs and a sales downturn have slowed profit growth for automakers. In January and February this year, the country's 10,784 auto producers scored 58.2 billion yuan ($8.2 billion) in total profits, a year-on-year increase of 15.84 percent. However, the growth rate for total profits was 5.77 percentage points lower than the prime operating revenue in the first two months this year.
A continued downhill trend for auto sales may last throughout the rest of the year, according to industry observers.
But Jia disagreed. "The situation is not that pessimistic. Given the fact that China's auto industry is undergoing structural adjustment this year, declining sales should be expected," he said. "Additionally, the low car ownership per capita leaves space for future growth. In this sense, China's auto sales and production will maintain a two-digital growth rate for many years to come."
The auto sales of 1.55 million units in April, Jia said, is not low since the highest month in 2009 was 1.41 million units, and auto sales in six out of 12 months last year did not top this April's figures.
"Auto sales in January and March this year reached a record high of 1.8 million units," Jia said. "A sales downturn in a single month doesn't mean there will be a recession or decline for the rest of the year."
China's total auto sales this year may even reach 20 million units, he added.