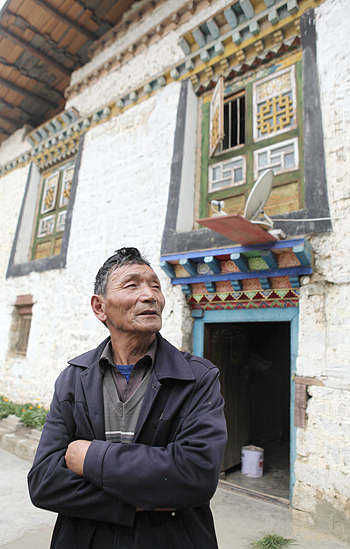 GREATER EXPECTATIONS: Don Tsering stands in front of his guesthouse (YANG JIAO)
Located in the southeast of Tibet Autonomous Region, Nyingchi Prefecture is famous for its beautiful landscape and forests. In recent years, the region has achieved rapid economic growth.
According to figures from the government of Nyingchi, from 2005 to 2010, the prefecture's GDP increased from 2.45 billion yuan ($379 million) to 5.4 billion yuan ($836 million), while the per-capita net income of farmers and herdsmen jumped from 2,723 yuan ($421) to 5,410 yuan ($837).
But Nyingchi's success has not been based on a uniform pattern prescribed by the government. The root of its good fortune lies with two villages that have developed and adopted their own patterns for growth, both utilizing their strengths based on local conditions.
Booming tourism
Lulang Town, which means "place where celestial beings live" in Tibetan language, is a fast-growing tourist destination with unadulterated forests and grasslands drawing in tens of thousands of tourists every year.
Tashi Koe Village in Lulang Town, located near a state road, has won particular favor from tourists because it's easily accessible and has a picturesque landscape. It was not until about 10 years ago that the locals realized they could make money from the influx of tourists.
"During the weeklong May Day holiday of 2001, some tourists came to Tashi Koe by chance and wanted to stay in local residents' homes for a night. When they left the next day, these tourists paid for their stay," Pinglah, a town official, told Beijing Review.
Herdsmen also made money when tourists asked to ride their horses, paying a small fee for a short ride. "They quickly found ways to make money from tourists," Pinglah said.
In 2003, the local government began developing the tourism industry in Tashi Koe.
Around that time, Don Tsering opened a guesthouse in the village. Initially, he used a 40,000-yuan ($6,192) subsidy from the government to renovate one room in his house, which had six beds. Just one year later, one room was not enough to accommodate a growing number of tourists. In 2006, with a government subsidy of 10,000 yuan ($1,549) and 110,000 yuan ($17,039) from his own pocket, Don Tsering built a new two-story house and expanded the guesthouse.
In 2009, the government offered loans of 980,000 yuan ($151,801) to the 22 household-run guesthouses in Tashi Koe to renovate toilets and showers. With the money, Don Tsering built a bathroom with solar energy heating systems. A new lounge, with an investment of 50,000 yuan ($7,745), is being added to his guesthouse.
Now Don Tsering's guesthouse has 12 rooms, offering 24 beds. For each staying tourist, he charges 30 yuan ($4.65) per night. Dinner is included for an additional 30 yuan. From May to October he receives more than 600 tourists on average, and the income can reach up to 70,000 yuan ($10,843). Together with the income from farming and animal husbandry, his family earned more than 100,000 yuan ($15,489) last year.
According to figures from the government of Nyingchi County, household-run guesthouses in Tashi Koe make more than 800,000 yuan ($123,908) every year.