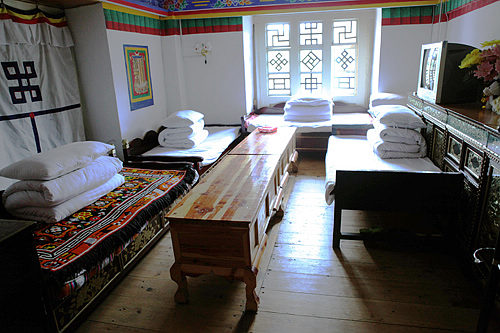 HOMESTAY: A room of the Tibetan-style guesthouse run by Don Tsering in Tashi Koe Village, Nyingchi Prefecture (YANG JIAO)
Development of the tourism industry has not only increased villagers' income, but also helped them update lifestyle.
The villagers used to litter everywhere, but after running guesthouses they have established good habits of keeping their homes and surroundings clean.
By running the guesthouse, Don Tsering has many opportunities to chat with tourists from all over the country. These interactions have allowed him to learn about the world outside Tibet.
"Developing the tourism industry not only allows tourists to understand our Tibetan culture and customs, it also broadens my visions," the 62-year-old man told Beijing Review.
"Before running guesthouses, villagers didn't know how to run a business, but now they are more commercially savvy and open-minded," Pinglah said.
Wei Hong, head of the Department of Publicity of the Nyingchi County Committee of the Communist Party of China, shares Pinglah's views.
"By communicating with tourists, many villagers will learn about the rest of China and the rest of the world. They will even be able to comment on current events around the globe," she said.
Collective development
Sangyey, head of the villagers' committee of Bahki Village, Bayi Town, remembers how less than 30 years ago villagers struggled to stay fed. They planted seeds that yielded few crops. Villagers' income, like their living standards, was low.
But, the village has convenient access to a state road and is only 3 km away from the administrative seat of Nyingchi. In the early 1980s, village heads decided to make use of these advantages and established a transportation team. Since then, the village has shifted from sole dependence on agriculture and animal husbandry to a diversified economy.
At present, the transportation industry is still the village's pillar source of business. According to figures from the government of Nyingchi County, 50 households in Bahki are engaged in the transportation industry, and in 2010 their income totaled 2.4 million yuan ($372,000).
Since the Park of World Cypress King is located in Bahki, many people work in the service industry. In 2010, local residents' income from tourism reached 632,700 yuan ($97,970).
In 2005, 300 people from 45 households formed a machinery service cooperative. The cooperative now has nearly 70 engineering machines. In the first half of this year it earned more than 850,000 yuan ($131,636).
In July 2009, with 1.56 million yuan ($242,000) of government investment and 320,000 yuan ($49,557) of self-raised funds, a dairy farm was established. That year, the dairy farm earned more than 80,000 yuan ($12,389).
Bahki has also set up several factories to supply construction materials to construction projects in Nyingchi. In 1999, a precast slab factory went into operation, now bringing an average annual income of 1 million yuan ($154,900) to the village.
In 2009, the precast slab factory spun off part of its business to establish an aggregate processing factory. In the first half of this year, the aggregate processing factory earned 600,000 yuan ($92,918).
According to Sangyey, the village is planning to start a concrete company and build a market for construction materials.
The commercial success of these businesses has greatly increased Bahki villagers' income. In 2010, the total revenue of the village was 7.76 million yuan ($1.18 million). Villagers' per-capita net income reached 10,360 yuan ($1,605), compared to national average level of 5,919 yuan ($917).
Sangyey said in Bahki, five households had total assets worth more than 10 million yuan ($1.55 million) and 10 households had total assets between 5 million yuan ($775,000)-10 million yuan. The balance in the village's bank account has totaled 14 million yuan ($2.17 million).
Kelsang Wangqu, 40, is among the richest in Bahki. He used to make his living by selling milk and butter. In 1992 he bought a truck to transport wood and other construction materials. Later he bought some engineering machines to provide machinery service and hired four drivers. In 2010, he earned more than 400,000 yuan ($61,955).
"All the households in the village live in spacious and well-equipped houses and have cars. Our life is not worse than those of urbanites at all," Sangyey said.
To copy the success of Nyingchi would be difficult, if not impossible, due to the lack of a uniform economic development pattern, Wei said. The towns and villages have chosen their own ways to develop economy in accordance with their own conditions and yielded positive results.
"We cannot copy the path of industrialization and modernization adopted by other regions of the country. We should adhere to our local characteristics and establish our core competitiveness and realize sustainable development," Wei said.