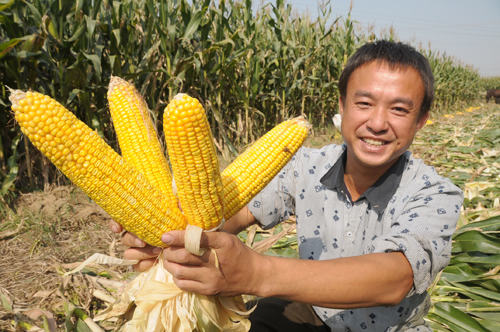 AUTUMN HARVEST: Gao Jun, a farmer in Fengming Village, Xinle in north China's Hebei Province, displays big ears of corn, on October 3, 2011 (JIA MINJIE)
The income gap between China's urban and rural residents narrowed in 2011 because rural residents' income grew faster than that of urban residents, according to data released by the National Bureau of Statistics (NBS).
Last year, rural residents' per-capita net income averaged 6,977 yuan ($1,107), up 11.4 percent from the previous year after adjusting for price increases, whereas the per-capita disposable income for urban residents reached 21,810 yuan ($3,462), a year-on-year increase of 8.4 percent in real terms, said the NBS.
The income ratio between urban and rural residents was 3.13:1 in 2011, lower than 3.23:1 in 2010 and 3.33:1 in 2009.
"In addition to rising prices for agricultural products and greater government support, the fast income growth of rural residents in 2010 and 2011 should be attributed to their surging income from salaries," said Han Jun, Deputy Director of the Development Research Center of the State Council, China's cabinet.
Income from salaries represented 42.5 percent of rural per-capita net income in 2011. Official statistics showed that last year, China had 252.78 million rural migrant workers, up 4.4 percent from the previous year, whose average monthly salaries grew by an average of 21.2 percent year on year.
In recent years, changes in labor supply and demand and state policies have pushed up migrant rural workers' salaries.
Last year, more than 20 provinces, autonomous regions and municipalities raised their minimum wage standard, and 16 increased their benchmark salary by 15 percent, significantly boosting the income of rural migrant workers.
Huang Shouhong, Deputy Director of the State Council Research Office, predicted that salary increases for migrant rural workers would continue for a while. "Similar to last year, this year is going to see a simultaneous increase in the number and salaries of migrant rural workers," he said.
The NBS gathered the income data from a survey of 74,000 rural households and 66,000 urban households nationwide. Migrant rural workers who had been away from home for more than six months were counted as part of the rural population if they brought their income home and were economically connected with rural households. The income they sent home was counted as part of rural household income.
The disposable income for urban residents was calculated after deducting income tax and payments for medical and pension insurance from earnings, whereas social insurance payments were not deducted from the income of rural households.
Besides salaries, major income sources for Chinese rural households, according to the NBS, also include earnings from family-run farming operations, earnings from family-run operations in industrial and service sectors, investments and transfer payments.
Income from family-run farming operations accounted for 36.1 percent of rural per-capita net income in China in 2011. The NBS estimated that 40 percent of the increase in this type of earnings came from an increase in output and 60 percent from price rises.
China's total grain output reached a historical high of 571.2 million tons in 2011, up 24.75 million tons, or 4.5 percent, from 2010, said the Ministry of Agriculture. Until last year, China's grain yield had been on the rise for eight consecutive years.
In addition, the output of cotton, oilseeds, sugar, fruits, vegetables, tea, meat, eggs, dairy and aquatic products all went up in 2011.
To stabilize the agricultural market, the government purchases agricultural commodities such as grain, soy beans, rape seeds and cotton. Last year, the minimum government purchasing price of wheat increased by 6 percent and that of rice by 10 to 18 percent.
The market price for many agricultural products such as pork and eggs also surged.
Earnings from family-run operations in industrial and service sectors accounted for 10.1 percent of rural per-capita net income last year. Nearly three quarters of the income was from operations in the service sector, which rose 21.4 percent.
Transfer payments made up 8 percent of rural per-capita net income in 2011, after a double-digit nominal increase from the previous year's level.
In 2011, the Central Government invested more than 1 trillion yuan ($159 billion) to support agriculture, rural areas and farmers, up 21.3 percent from the previous year. Adding investment from local governments, which was estimated at 2.5 times that from the Central Government, total government investment in these areas accounted for about 31 percent of the country's total fiscal revenue, said Chen Xiwen, a senior rural affairs official at the Central Government.
The investment included subsidies to farmers and spending to improve rural infrastructure. In 2004, the government began to subsidize farmers for grain production and for purchasing high-quality seeds and machinery. In 2006, agricultural tax was phased out, lightening farmers' burdens, and the government also began to subsidize farmers to offset price rises for production materials such as fertilizers and diesel.