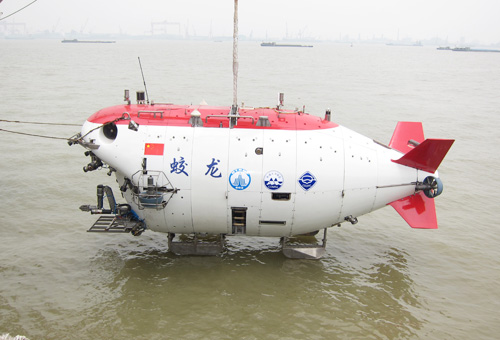 GOING DEEP: China's manned submersible Jiaolong is put into the water in a drill in Jiangyin, east China's Jiangsu Province, on June 1 (ZHANG XUDONG)
China's scientific horizons expanded greatly in both space and sea as explorers achieved new feats in June.
On June 24, three astronauts successfully carried out China's first manual space docking between Shenzhou-9 spacecraft and the orbiting Tiangong-1 lab module, while three deep-sea explorers dived to uncharted depths 7,020 meters beneath the ocean surface inside the country's manned submersible Jiaolong. Just three days later, the record was broken by the same group of oceanographers at a depth of 7,062 meters.
"The advanced technologies in China's Shenzhou-9 and Jiaolong missions will bring the Chinese economy to a new level with unlimited economies of scale, and make it much more capable of contributing to world peace and global economic development," said Du Hui, a professor at the Dalian-based People's Liberation Army Naval Academy in northeast China's Liaoning Province.
Deep in the sea
On June 30, Jiaolong, which is named after a mythical sea dragon, successfully completed its planned series of deep-sea dives, with the sixth and final dive to 7,000 meters in the Mariana Trench in the Pacific Ocean, the deepest part of the world's oceans. With the successful tests, China is now able to conduct deep-sea scientific research and resources exploration in 99.8 percent of the Earth's seabed.
"Jiaolong will enter a trial period of application to follow up on its program of test dives to depths ranging from 1,000 to 7,000 meters," said On-Scene Commander Liu Feng.
China initiated Jiaolong program in 2002 and has invested 470 million yuan ($74.03 million) in the program over the past 10 years for submersible research and modification and oceanic experiments, according to Liu.
In July last year, Jiaolong surpassed the previous national record of 5,188 meters below sea level.
After arriving at the designated dive zone in the Mariana Trench in early June, Jiaolong had succeeded in reaching depths of 6,671, 6,965, 6,963 meters before successfully challenging the 7,000-meter depth.
With the successful trial dives, China has joined the ranks of other deep-sea faring countries. The United States, Japan, France and Russia currently lead the world in the development of deep-sea exploration technology, each possessing their own submersibles and support bases.
Submersibles from Russia and Japan have reached about 6,000 meters. The world's deepest manned undersea expeditions were made by two submersibles from the United States, the Bathyscaphe Trieste in 1960 and the Deepsea Challenger in 2012, both reaching a depth of about 11,000 meters in the Mariana Trench. But Jiaolong is the first manned research vehicle in the world to have dived more than 7,000 meters below sea level.
Deep-diving technology development is of great significance, especially for the development of deep-sea resources. There are many deep-sea mineral resources that have immense scientific and economic value and present a treasure trove of research opportunities for marine scientists worldwide.
"The breakthrough of Jiaolong will make China capable of reaching much richer oil and gas resources more cheaply," Du said.
China is the world's second-largest oil consumer, importing 253.78 million tons at a cost of about $196.66 billion in 2011. Customs statistics indicate that the volume was 6 percent more than the year before and the price rose 45.3 percent year on year.
According to Du, more than 70 percent of the world's oil and gas is obtained in the ocean, and about 1 trillion barrels of oil reserves can be found in deep waters.
Offshore oil resources will be an important source of crude oil production growth in the future, and more than half of global oil and gas production and reserves will come from offshore fields.
"The economic impact will be significant," Du said, adding that many technological breakthroughs in Jiaolong can also be adopted by civilian deep-submergence programs. "A few related industries, such as shipbuilding and supporting equipment industries, will also get a boost from advanced technologies and the development of China's deep-submergence programs."
China currently has three experienced submersible divers—Ye Cong, Tang Jialing and Fu Wentao, who piloted Jiaolong in its previous test dives. In order to further explore the deep sea, the country is planning to recruit another four to six crewmembers in 2013.
"The National Deep Sea Center (NDSC) is working on the standards of selection, training and rating of divers," said NDSC Director Liu Baohua.
The construction of an expansive deep-sea base, designed to be a state-level oceanic technical support center, is expected to begin later this year or in early 2013. The physical construction of the base will cost at least 495 million yuan ($77.98 million) and cover 26 hectares of land and 62.7 hectares of sea in the coastal city of Qingdao in eastern Shandong Province.
Besides Jiaolong, the country also plans to build another manned submersible with a depth range of 4,500 meters below the sea level.
In addition, the NDSC is applying to build a 4,000-ton mother ship, given that Xiangyanghong 09, the mother ship of Jiaolong, has been in service for over three decades, Liu said. The new ship is expected to become operational by 2015.