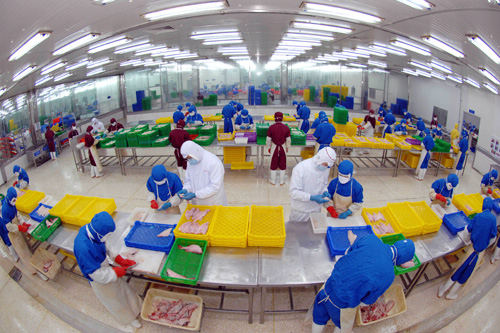 WORLD KITCHEN: Workers process fish to be exported to Japan in Rongcheng Taixiang Aquatic Food Products Co. Ltd. in Shandong Province in August 2011 (GUO XULEI)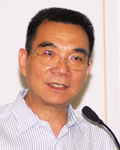 Justin Yifu Lin (XINHUA)
Increasing pessimism about the Chinese economic outlook is emerging owing to the euro-zone debt crisis and gloomy recovery in the United States. Justin Yifu Lin, former Vice President of the World Bank, predicted that China can maintain 8-percent annual economic growth for the next two decades at the 14th NBER-CCER Conference on China and the World Economy in Beijing on June 24-26, an annual conference jointly held by the U.S. National Bureau of Economic Research and the China Center for Economic Research of Peking University. Edited excerpts of Lin's views follow:
We are observing a two-speed recovery. On the one hand, there are the high-income countries whose growth rate in 2010 and 2011 is estimated at 3.1 percent and 1.6 percent, respectively—far below the historical average following other crises. On the other hand, there are the developing countries which grew at 7.6 percent in 2010 and were likely to grow at 6 percent in 2011, returning to their pre-crisis rates. Developing countries, especially China and India, have increasingly become engines of growth of the world economy.
Now China is becoming an innovator in its own right. In many sectors in which China has comparative advantages, higher-income countries have graduated, or are close to graduating, from those sectors—for example, household electronics and the high-speed train. If China wants to maintain leadership in those sectors, China will need to develop the technology/product innovation when it reaches the frontier.
China can then become a global technological/industrial leader in those sectors. There are also some new sectors, such as green technology, which are important for China's sustainable growth. China has the potential to be a leader due to its large domestic market.
But the income gap between China and the United States indicates that there is still a large technological gap between China and the industrialized West. In 2008 China's per-capita income was 21 percent of U.S. per-capita income measured in purchasing power parity.
China has the potential to achieve another 20 years of 8 percent growth. By that time, China's per-capita income measured in purchasing power parity may reach about 50 percent of U.S. per-capita income.
Triple imbalances
Given the inevitable slowdown in exports to high-income countries in the coming years and the need to reduce trade surplus, it is only prudent and pragmatic to consider ways to rebalance the Chinese economy towards domestic demand. The shift towards domestic demand represents the first rebalancing.
A second form of rebalancing is a structural transformation to reduce income disparities. In spite of the general improvement of living standards, China has shifted from a relatively egalitarian society at the beginning of the reform and opening up in 1979 to a country with alarming income inequality. The Gini index reached 41.5 in 2005, approaching the level of Latin American countries. The widening of disparity may threaten social stability and hinder economic growth.
A third form of rebalancing is overlooked by macroeconomists. China's extraordinary growth has come with almost inevitable environmental costs. There is the need to rebalance short-term growth and long-term environmental sustainability.
Specifically, we are referring to the distribution of income between the households on aggregate and the corporate sector (essentially the functional distribution of income) and the distribution of income across households (or size distribution of income). We know from the national accounts and from industry data that a large share of Chinese national income accrues to large corporations and an increasing share of income accrues to rich people. Both groups have higher propensities to save than middle- and low-income households.
Shifting more income towards workers can rebalance income between rich and poor and between the corporate sector and households. This redistribution would also reduce external imbalances.