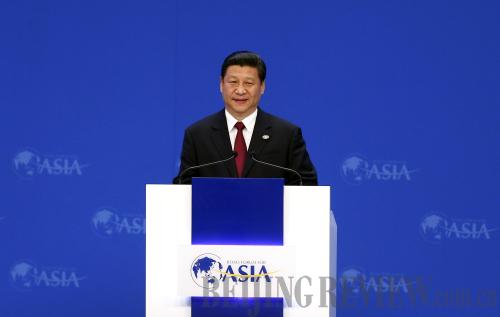 THE SPEECH: Chinese President Xi Jinping delivers his keynote address at the Boao Forum on April 7 (ZHANG HAO)
The just concluded Boao Forum for Asia (BFA) Annual Conference 2013 was probably the busiest one in its history, with over 2,500 political and economic leaders from 43 countries and regions from around the world discussing or debating topics such as the global economic recovery, Asian integration and the accomplishments and risks of the upbeat Chinese economy.
During his keynote speech at the opening ceremony of the 2013 BFA on April 7, Chinese President Xi Jinping emphasized the important role that Asian countries, China in particular, have played in a lackluster global economic recovery.
Asia is one of the most dynamic and most promising regions in the world, and its development is closely connected with the development of other continents, said Xi. In recent years, Asia has contributed to over 50 percent of global growth, instilling much-needed confidence in the world. What is more, Asia's cooperation with other regions of the world at regional and sub-regional levels has great vitality and promising prospects, said Xi.
Xi also emphasized that a growing China will benefit Asia and the world.
"The bigger the growth China achieves, the more opportunities the whole world can get," he said.
China is expected to make overseas investments of $500 billion and import goods worth $10 trillion in the next five years, and its people will make 400 million trips abroad, Xi said. China outperformed many countries amid the global slowdown, despite its economic expansion hitting a 13-year low of 7.8 percent in 2012, as the European debt crisis dealt a heavy blow to the country's exports. The nation set a growth target of 7.5 percent for 2013. The best, Xi emphasized, is yet to come. China pledged to double its GDP and per-capita income by 2020 from 2010 levels.
China's development during the past decade won global applause at the forum. Cambodian Prime Minister Hun Sen said that China's economic rise and rapid growth have helped the Association of Southeast Asian Nations emerge from its own economic slump. "China's economic growth benefits other regions and countries worldwide," he said.
International Monetary Fund (IMF) Managing Director Christine Lagarde spoke highly of Asia's economic development, especially China.
"I dare not imagine where the world economy might be today without Asia. This region has been the consistent global growth leader—driving an astonishing two thirds of total growth in the five years since the crisis hit," she said during the forum.
She also said that China plays a crucial role in the world economy, as it has maintained rapid growth momentum, adding that the IMF attaches great importance to China and expects further cooperation.
Despite promising prospects, the way ahead is riddled with challenges.
"China is still the largest developing country, and it is faced with several difficulties. Long-term efforts are needed to overcome them," said President Xi.
China's future development depends on its ability to tackle daunting tasks, including how to further prompt domestic consumption to realize a transformation of the country's growth model, how to deal with the hollowing-out of the manufacturing sector and how to carry out financial reforms to inject vitality into the economy, said experts at the BFA.
The need to spend
There has been a growing outcry for China to further tilt the nation toward domestic consumption in order to help a sluggish global economy recover. In its 12th Five-Year Plan (2011-15), China vowed to shift its growth model toward boosting domestic consumption, as shrinking world demand for Chinese goods hurts exports. Domestic consumption only accounts for 48 percent of China's GDP, much less than the global average of 80 percent. This means a huge market is begging to be tapped.
"China is one of our biggest markets in the world, with an enormous growth prospect," said Carlos Brito, CEO of the Anheuser-Busch InBev, a leading global brewer, at the panel discussion. "Right now the beer consumption is quite low, and we see this as a great opportunity. Also, we noticed that China is a vast nation with huge regional differences. Right now, most of our business happens in coastal cities. In the future, we will focus more on inland cities and the western part of the nation."
Zein Abdalla, President of PepsiCo, echoed Brito, noting that Pepsi has performed well in China.
"We expand our presence in the Chinese market by customizing to the unique needs of Chinese consumers. For instance, by developing relatively light-tasting chips like the cucumber potato chips," he said, adding that the company will continue to develop product portfolios catering to local stomachs.
"We have a long commitment to and confidence in the Chinese market."
Lai Xiaomin, Chairman of China Huarong Asset Management Co. Ltd., said at the BFA that China should establish a long-term plan to shore up consumption.