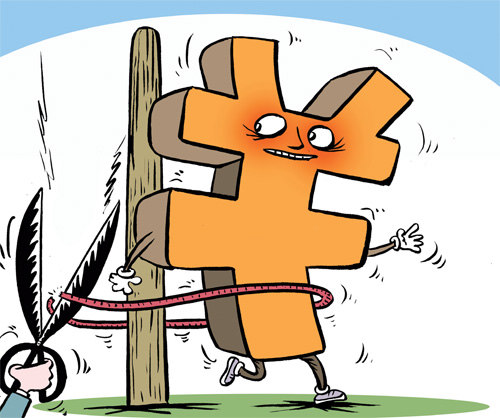 (CFP)
The People's Bank of China (PBC), the country's central bank, removed controls on lending rates on July 20, which could create more competition among banks and make loans more available for private businesses.
"This is anticipated news, but it comes sooner than expected," said Guo Tianyong, Director of Center for Chinese Banking Studies at the Central University of Finance and Economics.
According to Guo, removing controls on lending rates is an important measure for China's financial reform.
Previously, China's central bank required that lending rates not be lower than 70 percent of the benchmark rate, which is 6 percent.
A statement on the PBC's website says after controls are removed, banks will be forced to compete with each other when issuing loans, which will ultimately be better for smaller and privately owned companies that were previously shut out from qualifying for loans, which largely went to state-run companies.
The PBC says liberalizing lending rates is another step forward in China's plans to rebalance its economy away from investment and exports and toward consumption. However, the floor on mortgage rates will remain in place to curb property speculation.
Timing
Interest rate reforms are considered a must for a more market-oriented economy and a fully convertible yuan, China's currency. However, the Chinese Government has not removed the ceiling on bank deposit interest rates because of concerns that banks could find their profits squeezed.
So why has the central bank removed the floor on lending rates at this particular time? It may have to do with June's alarming and sudden cash crunch.
On June 20, the interbank interest rate hiked, a warning message for banks to reign in easy credit in fields outside the real economy.
After the cash crunch, the central bank enhanced supervision on commercial banks and readjusted its credit policy. Since controls on lending rates have been removed a mere one month after the cash crunch, this is obviously not a coincidence.
Zhang Yongjun, a researcher with the China Center for International Economic Exchanges, says this is a big step in the central bank's market-oriented interest rate reform and will be conducive to making better use of credit already granted.
The central bank statement says removing controls occurred now because macro- and micro-economic conditions for market-oriented interest rate reform are mature. At present, Chinese economic growth and price levels are both stable, offering favorable timing for further reforms. After years of financial reforms, the central bank's regulations on financial institutions have been steadily improved, putting more pricing power in the hands of banks and the market. Moreover, the Shanghai Interbank Offered Rate, or the Shibor, has become an important benchmark for the pricing of financial products such as corporate bonds and derivatives as well as financial services. Monetary policy has also been better implemented in the financial markets.
The PBC said that it has decided to liberalize lending rates after evaluating the risks. In fact, stable lending rates also reassured the central bank to remove lending controls, because the previous floor of 70 percent of the benchmark rate existed in name only: No bank had granted loans with an interest rate lower than 70 percent of the benchmark rate.
According to the PBC's first-quarter monetary policy report, in March, only11.44 percent of the country's loans had interest rates lower than the benchmark rate, a decline of 2.72 percentage points from the beginning of the year; 64.77 percent of loans had interest rates higher than the benchmark rate, up 5.03 percentage points compared to the outset of the year.
Therefore under the current reality where credit supply is tight and lending rates are higher than the benchmark rate, freeing lending rates won't lead to excessive competition among banks and significant fluctuations in the credit market.
Significance
Removing the floor on lending rates comes at a time when China is undergoing a much needed rebalancing of its economy.
"Fully removing lending rate controls will help the financial industry support development of the real economy," said Lian Ping, chief economist at the Bank of Communications.