FLOATING GIANT: A ship is under construction at the yard of Tianjin Xingang Shipbuilding Heavy Industry Co. Ltd. (YUE YUEWEI)
The Hengfu Shipyard, headquartered in east China's Zhejiang Province, used to be an industrial heavyweight with an annual production capacity of 1 million deadweight tons of vessels. However, the ship producer declared bankruptcy in 2011 due to a lack of orders and mounting debts. Zhejiang Province is clustered with many ship builders operating within private shipyards. But since 2009, many of them have gone belly-up like Hengfu.
Government-backed shipyards are facing tough times, too. The CSSC Jiangnan Heavy Industry Co. Ltd., one of the top five state-owned shipyards in China, recorded a severe loss of 60.31 million yuan ($9.85 million) in the first half of 2013, while its business revenue plunged 39.49 percent year on year. In 2012, the company registered a loss of 97.37 million yuan ($15.91 million).
The combined profits of 80 major ship builders monitored by the Chinese Association of the National Shipbuilding Industry nose-dived by 53.6 percent in the first half of the year to 3.58 billion yuan ($584.1 million), while business revenues plunged 18.5 percent to 120.3 billion yuan ($19.66 billion).
The shipbuilding sector is closely related to 113 other industries, including iron and steel, petrochemical engineering, equipment manufacturing and digital information. The Central Government has expressed deep concerned over the industry's woes.
China grew to become the world's leading ship builder over the last decade as hundreds of private yards opened to compete with state-run companies. Now, the government is poised to regain control as the industry heads for consolidation.
To this end, the State Council issued a support plan on August 4 aimed at keeping the shipbuilding sector afloat. The three-year plan for the industry includes controlling capacity, upgrading shipbuilding standards and developing higher value-added products.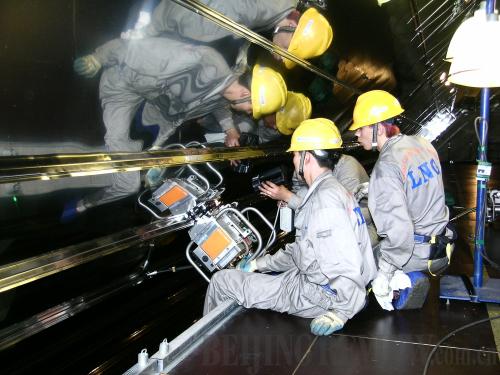 MASTERING THE TECHNOLOGY: Staff members from the China State Shipbuilding Corp. piece together an LNG ship (XINHUA)
Capacity glut
The shipbuilding sector is capital-, technology- and labor-intensive, with an extremely long industrial chain. It has been a highly competitive industrial field that major global powers have participated in. China is no exception. The export-oriented economy took off in China after the country entered the WTO in 2001, leading to a boom in the country's shipbuilding sector.
From 2002 to 2010, the number of shipyards with a production capacity of 300,000 deadweight tons or above increased from five to 33, while the number of yards with a capacity of 100,000 deadweight tons or above surged from 13 to 59. The number of shipyards in China has swollen to over 1,600, among which 60 percent were built after 2001.