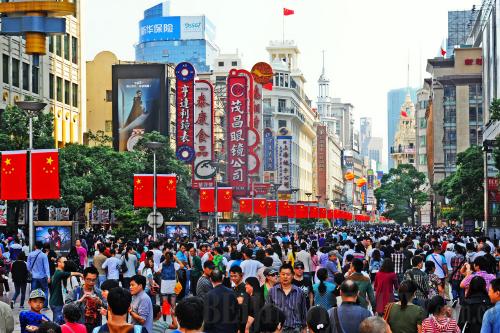 PEAK SEASON: Tourists swarm to Nanjing Road, a famous shopping street in Shanghai, on October 1, 2012, the second day of last year's Golden Week holiday (September 30-October 7) (GUO CHANGYAO)
Amid economic woes at home and abroad, Chinese growth still hit a robust 7.8 percent in 2012, even though it's the country's slowest rate since 1999.
After dipping to a seven-quarter low of 7.4 percent in the third quarter of 2012, the economy has shown signs of stability while GDP growth rebounded to 7.9 percent in the last quarter, said Ma Jiantang, Commissioner of the National Bureau of Statistics (NBS) at a press conference on January 18.
"We've also made new progress in economic restructuring," Ma said.
Among the 51.93 trillion yuan ($8.36 trillion) of the GDP in 2012, the service sector experienced a rise, its added value contributing 44.6 percent, 1.2 percentage points higher than the previous year.
While the export engine lost steam due to anemic demand on the global market, domestic consumption contributed 51.8 percent to China's economic growth in 2012, with investment adding 50.4 percent, and exports -2.2 percent.
In addition, achievements were made in energy saving and emission reduction. Energy consumption per unit of the GDP dropped by 3.6 percent in 2012, compared with 2011's 2 percent. Natural gas, hydropower, wind and nuclear power accounted for 14.5 percent of total energy use, 1.5 percentage points higher than the proportion in 2011, according to Ma.
The Central Economic Work Conference held in December 2012 prioritized quality and efficiency of growth over its speed for the first time. The slowing growth rate and changes in growth patterns during 2012 indicate the country's economy is heading in this direction.
As exports received a heavy blow from a sluggish global economy, domestic consumption has taken the baton to become a new lifesaver for a slowing economy.
Retail sales of consumer goods totaled 20.72 trillion yuan ($3.33 trillion) in 2012, increasing 12.1 percent compared with 2011.
Chinese purchasing power was on full display in 2012, illustrating the potential for increased domestic consumption as the country attempts to shift its economy away from a reliance on investment and manufactured exports.
During the 2012 Golden Week holiday, which ran from September 30 to October 7, sales revenue for the retail and catering sectors totaled 800.6 billion yuan ($127.3 billion), up 15 percent year on year, and a total of 425 million Chinese traveled during the period, up 40.9 percent, resulting in 210.5 billion yuan ($33.47 billion) for the tourism industry, according to official figures.
November 11, dubbed Singles Day, is a time when millions of Chinese head online to take advantage of huge retail discounts.
Last year's Singles Day saw over 213 million Internet users swarm Taobao and Tmall, customer-to-customer and business-to-customer platforms operated by the Hangzhou-based Alibaba Group, for its 24-hour 50-percent-off carnival. Together the sites raked in a record 19.1 billion yuan ($3.07 billion), up 260 percent year on year. Other major e-commerce players all reaped record-breaking profits, which marked the biggest e-commerce sales day on record.
More Chinese opened their wallets to spend simply because they have more money to spend.
The per-capita disposable income of China's urbanites increased 9.6 percent in 2012 to 24,565 yuan ($3,953), while per-capita net income of farmers was 7,917 yuan ($1,274), up 10.7 percent, said the NBS.
Growth in consumption was also due to government incentives.
The Chinese Government in August 2012 decided to lift highway tolls on roads and bridges nationwide for passenger vehicles with seven seats or less during the four major Chinese holidays—the Spring Festival, Tomb Sweeping Day, May Day and the National Day.
In May 2012, the State Council earmarked 36.3 billion yuan ($5.78 billion) to encourage consumption by offering subsidies for energy-saving household appliances, efficient lighting products, greener vehicles and efficient electrical machines. Industry insiders predict that consumers will spend over 450 billion yuan ($71.6 billion) as a result.
A total of 79.97 million units of home appliances were sold under China's rural subsidy program in 2012, up 22.6 percent from one year earlier. The sales volume amounted to 214.5 billion yuan ($34.51 billion), increasing 18.8 percent, said the Ministry of Commerce.
The subsidy program, which was started nationwide in 2009 and will continue until January 2013, is part of the government's efforts to stimulate rural consumption. Under the program, farmers can receive subsidies equal to 13 percent of the price of the home appliances they buy.