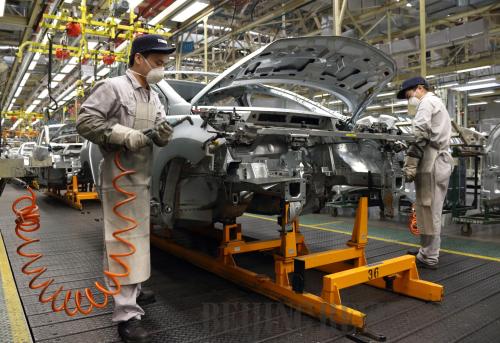 Workers assemble a vehicle at a plant operated by Dongfeng Peugeot-Citroën Automobile Ltd. in Wuhan, capital of Hubei Province, a joint venture between Dongfeng Motor Corp. and PSA Peugeot Citroën (CFP)
Stable Economic Growth
China's economic growth is on track to meet its 7.5-percent growth target for the whole year. GDP growth accelerated to 7.8 percent in the third quarter, up from 7.7 percent in the first quarter and 7.5 percent in the second. In the first three quarters, GDP growth reached 7.7 percent.
In the first 11 months, the consumer price index rose 2.6 percent year on year, well below the government's full-year target of 3.5 percent.
The unemployment rate was 4.04 percent for the first three quarters, dropping for the first time in three years and well below the full-year limit of 4.6 percent. China created new jobs for 10.66 million urban residents from January to September, already exceeding the target of 9 million for the year.
China's total grain output reached 601.94 million tons in 2013, up 2.1 percent year on year, marking an increase for 10 consecutive years.
The Central Economic Work Conference held from December 10 to 13 in Beijing made plain that making progress while ensuring stability will be the keynote in 2014 and that China will continue to follow a proactive fiscal policy and a prudent monetary policy next year.
Yangshan Free Trade Port Area of the Shanghai pilot free trade zone (FAN JUN)
Shanghai Free Trade Zone
In August, the State Council approved the establishment of a pilot free trade zone (FTZ) in Shanghai, as a testing ground for the country to further open up its economy and accelerate the transformation of government functions.
The Shanghai FTZ was officially launched on September 29. Covering an area of 28.78 square km, it will be built on the basis of Shanghai's existing bonded zones—Waigaoqiao Free Trade Zone, Waigaoqiao Free Trade Logistics Park, Yangshan Free Trade Port Area and Pudong Airport Comprehensive Free Trade Zone—and will take more than 10 years to complete.
On December 2, the People's Bank of China announced detailed reform guidelines to support the Shanghai FTZ. The financial package includes 30 detailed instructions which involve promoting capital account convertibility, expanding cross-border use of the yuan and interest rate liberalization.
A clerk counts banknotes at a rural credit cooperative in Tancheng County, Shandong Province (ZHANG CHUNLEI)
Financial and Taxation Reforms
The People's Bank of China removed controls on lending rates on July 20, and financial institutions can now independently decide lending rates in accordance with business principles.
As of December 9, a new guidelines on deposit certificates in the interbank market became effective. The guideline will help increase the range of debt products offered by financial institutions.
Following regional experiments since the beginning of 2012, China rolled out its pilot program to replace turnover tax with value-added tax throughout the country on August 1.