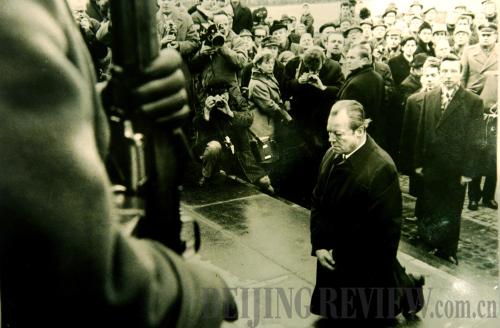 PAYING RESPECTS: File photo taken on December 7, 1970 shows then German Chancellor Willy Brandt kneeling in front of the monument to Nazi victims at the Warsaw Ghetto in Warsaw, Poland (XINHUA)
Complicating matters
Yang Bojiang, a senior research fellow at the Chinese Academy of Social Sciences (CASS), considers Abe's Yasukuni Shrine visit as another step rightward following the release of a national security strategy, new defense program guidelines and a medium-term defense buildup plan in December last year. The three documents are seen as aiming to free Japan from its postwar political shackles.
On a personal level, Abe can fulfill his own political desires, said Yang. The researcher predicts that as Abe has pledged to restore Japan's status, it will be only a matter of time before he tries to lift the country's self-imposed ban on exercising the right of collective self-defense, or coming to the aid of an ally under armed attack.
Zhang Yong, another researcher of Japanese studies with the CASS, pointed out that being a representative of politicians born after World War II, Abe has no clear understanding of Japan's responsibilities toward the outcomes of the war, which is why he tries to beautify Japan's aggression and distort history.
"He prefers military realism instead of political realism. He chose an extremist method of visiting the shrine to fulfill his political mission of right deviation," Zhang said. He noticed that Abe's visit had sent two messages: getting rid of the postwar international system to make Japan a political and military giant and seeking more support by catering to the domestic right.
"The only effect of Abe's visit is the deterioration of the East Asian situation, and increased tension in current conflicts between Japan and its neighbors," said Zhang, predicting that the relationship between China and Japan is going to become even more complicated.
Abe's visit to the shrine not only hurt the feelings of the nations that Japan invaded during World War II, but also violated the conscience of international society and challenged the postwar international order, said Qu Xing, President of the China Institute of International Studies.
"The 14 Class-A war criminals represented at the Yasukuni Shrine should be nailed to a pillar of shame in history. They were Japan's versions of Adolf Hitler, but they are still worshiped by Japan's right-wing politicians. It humiliates international society as a whole. The Chinese people and our government will definitely fight against this dangerous trend," said Qu.