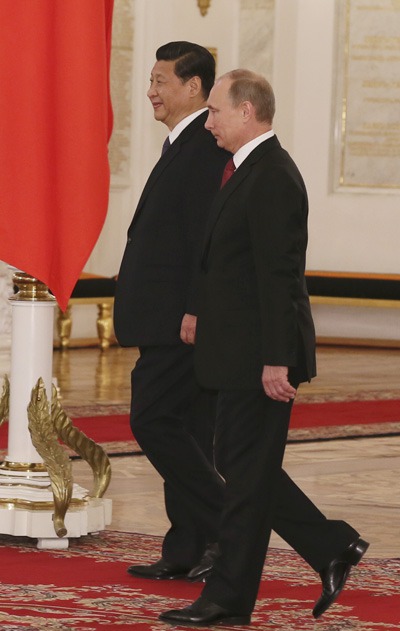 GOOD NEIGHBORS: Visiting Chinese President Xi Jinping (left) is welcomed by his Russian counterpart Vladimir Putin in Moscow on March 22, 2013 (LAN HONGGUANG)
China's diplomacy in 2013 was eye-catching due to the leadership change in the country and the reinvigoration of reform. The spirit of reform and a world vision, which China's new leadership inherits from their predecessors, are the soul of Chinese diplomacy today.
Today's world
The current situation is quite different from when China's reform and opening up started in the late 1970s. China's national strength has grown exponentially since then. As a result, the country faces a huge responsibility in using its strength to play its role in the world. Knowing the importance of adopting the right strategy and properly using its power, the new leadership stressed that China will stick to its path of peaceful development.
Maintaining continuity is a key tenet of China's diplomacy. The key goals of Chinese diplomacy—maintaining peace as well as promoting development and cooperation—have not changed since the leadership transition, only become clearer and steadier with the passage of time.
Chinese President Xi Jinping and his team came to power at a time when the domestic and international situation was relatively complicated. They committed themselves to deepening reform in China, further opening up the domestic economy and deepening its integration with the world economy. They are aware that it will be very difficult to advance reform when internal contradictions and international conflicts exist. They believe that for China to concentrate on its own development, there must be a peaceful international environment.
There are still hidden risks for China. Major economies have conducted structural adjustments and are preparing to stop quantitative easing in the post-crisis era, which will increase competition and fluctuations in the world economy. As Barack Obama's administration insists on implementing its new strategy in Asia, China's relationships with the United States, Japan and the Association of Southeast Asian Nations (ASEAN) have become more complicated. China faces heightened strategic pressure in its neighborhood, amid ongoing disputes over territory and maritime boundaries. The situation in hotspots like the Korean Peninsula, Syria and the nuclear issue of Iran has been tense, which directly impacts China's strategic interests, border stability and energy security.
To deal with the complex situation, President Xi has vowed to strengthen top-level design and always have national interests in mind.
A new relationship
On December 4, 2013, visiting U.S. Vice President Joseph Biden and President Xi held talks for nearly five hours. This was the first high-ranking meeting between the two sides after the Third Plenary Session of the 18th Communist Party of China (CPC) Central Committee was held back in November.
During Biden's China trip, he spent most of his time exchanging opinions with Chinese leaders over China's reform after the important third plenary session and the Sino-U.S. relationship. The two sides agreed on expanding dialogues, communication and cooperation to jointly push forward the establishment of a new form of relationship between great powers.
Building a new type of relationship between China and the United States is an idea that has been advocated by President Xi since he assumed presidency. The core of this concept is to get rid of the historical notion of inevitable confrontation between the existing dominant power and a rising power, and to form a relationship based on mutual respect, mutual benefit and win-win outcomes. Xi and his U.S. counterpart Obama broke the traditional communication mode between state heads and met in a casual atmosphere in California in early June 2013. They reached consensus on jointly building a new type of relationship between the countries after more than eight hours of discussion.
Xi's California trip, which was greatly applauded at home and abroad, was considered as the signpost to an active approach in China's diplomacy. This is part of the new Chinese leadership's multi-faceted diplomacy.