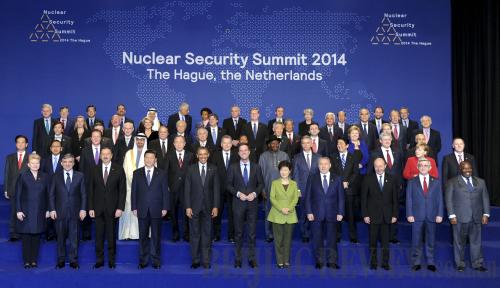 COLLECTIVE CONSENSUS: World leaders pose for a group photo during the Third Nuclear Security Summit in The Hague, the Netherlands, on March 25 (ZHANG DUO)
Chinese President Xi Jinping recently spoke on the use of nuclear energy by raising the vivid analogy of Prometheus, the Greek god who brought fire to humanity. While nuclear technology has the power to generate a bright future for mankind, Xi warned that without effective safeguards for nuclear safety and an adequate response to potential security risks, that same power could be overshadowed by the darkness of disaster.
The Chinese leader's remarks were made on March 24 at the Nuclear Security Summit in The Hague, during which he also elaborated comprehensively on China's approach to nuclear security.
Observers said it is the first time China has proposed a systematic solution to world nuclear security, which will be of great constructive significance for strengthening nuclear security for a safe world. In the meantime, it embodies China's willingness to undertake its role as a responsible power.
A systematic approach
In his statement, President Xi suggested that to enhance nuclear security, the world should place equal emphasis on development and security, rights and obligations, independent and collaborative efforts, as well as on treating symptoms and addressing causes.
As for the four-point proposal, observers said it has included all the key elements that are needed to bring nuclear security onto a healthy track for sustainable development, such as how to understand the situation, find a solution and cooperate with each other.
Chen Kai, Secretary General of the China Arms Control and Disarmament Association, said the first two points of the proposal reflect the Chinese philosophy of balance in its nuclear security approach. "The balance of capacity and responsibility as well as of rights and obligations is practical as it is based on the uneven development of global nuclear capacity," he said.
"The levels of nuclear energy development are different in different countries, and their capacities, interests and responsibilities should therefore vary," said Chen. "But all in all, the development of nuclear energy should be founded on the premise of security."
Liu Chong, a researcher with the China Institutes of Contemporary International Relations, said Xi's proposal at the summit is strategic and instructive as it stresses both treating symptoms and addressing causes.
While offering suggestions to prevent nuclear security risks, Xi stressed the importance of tackling the root causes of nuclear security. He said the international community needs to foster a peaceful and stable international environment, encourage harmonious and friendly relations between countries, and conduct exchanges among different civilizations in an amicable and open-minded manner. This is the only way to address the root causes of nuclear terrorism and nuclear proliferation, and to achieve the lasting security and development of nuclear power.
Chen said this idea is based on China's profound understanding of the underlying causes of global nuclear security threats.
"The efforts the international community has made on nuclear security including building security protection capacity, making and implementing international norms as well as carrying out international cooperation mainly focus on how to respond to nuclear security challenges. But what China is more concerned with is a solution to its fundamental causes," said Chen.
"What China advocates is to eliminate the scourge of terrorism—the source of nuclear security threats. It calls on all the countries to foster a peaceful regional and international environment, eliminate poverty and enhance dialogue among different civilizations for mutual understanding," Chen added. "The Chinese approach to nuclear security proposed by President Xi shows China's role as a responsible power in the world arena."
A good record
In his statement during the summit, Xi not only proposed to address international nuclear security challenges but also committed to firmly strengthening China's own nuclear security capability.